MAF partnership and participation includes:
Representation on local security and humanitarian networks in countries where MAF programmes operate
European membership of BOND and EU-CORD, and is a member of the Humanitarian Emergency Fund (DEC) Scotland
Membership of EU-CORD ensures access to: Voluntary Organisations in Cooperation in Emergencies (VOICE); Confederation of Relief and Development (CONCORD); International Disability and Development Consortium (IDDC); and the VIVA Network.
An MOU with Integral Alliance and World Vision
Close collaboration with Medair and Swiss Development Corporation (SDC)
Close communication with DFID
In the USA, MAF is a member of ACCORD and the Global Relief Alliance (GRA).
MAF is a signatory of the Code of Conduct for International Red Cross and Red Crescent Movement, and NGOs in Disaster Relief.  
MAF is a full member of the CHS Alliance and operates in a principled, impartial, independent and neutral manner serving communities in need.
 
Image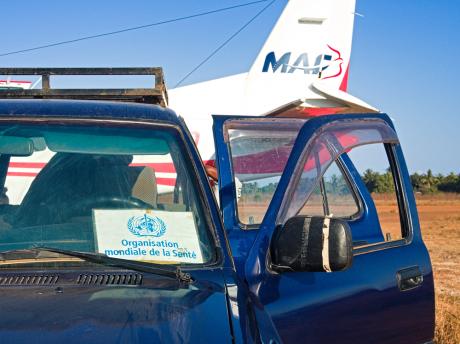 Photo: Ian Purdey
MAF flew to seven isolated areas to deliver Covid vaccines as part of COVAX. COVAX is co-led by CEPI, Gavi and World Health Organisation, alongside key delivery partner UNICEF who chartered the flight.