MAF Technologies
MAF Technologies provides the Church with technical solutions, including radio communication, computing, solar lighting, digital audio bibles and any other technology that can help them to advance the gospel. MAF's primary focus in this field is in Papua New Guinea, where the church is advancing rapidly into the technological age. Our team works to help them jump the 'technology divide'.
How we help
Many communities in Papua New Guinea are not only geographically isolated, but are also unable to communicate with the 'outside world'. MAF Technologies helps by installing high frequency (HF) radios and these locations. The HF radio means that villages in the most remote parts of Papua New Guinea are able to contact MAF and provide vital airstrip information, as well as organise flights and urgent medical evacuations. These radios also allow the remote communities to access doctors, government organisations and help pastors and missionaries talk with their organisations about their work and needs.
"Once you finish an installation, you hear the first radio call that comes in and see the smiles on people's faces - they know that they're connected to the outside world!" - David Feka, MAF Technologies Technician
Image
Photo: Gollinson Wena
MAF Technologies installs solar panels in isolated communities where power infrastructure is limited. This enables vital services to continue, often meaning that remote health centres remain operational.
EBC Health Services at Waramanz in the Jimi District (Jiwaka Province, PNG) was in dire need for reliable solar power. Although the health facility is well established and well equipped, the absence of reliable power to give light made attending to patients during night emergencies very difficult and stressful for the community health workers. Lack of power also created the inability to run life-saving oxygen concentrator or keep vaccines cool in their vaccine fridge.
Early in the month of August the MAF Technologies team successfully installed a new solar power system for the EBC Health Services. Once installed, the health centre was lit up very well. The power system was hooked up to the internet for remote monitoring where MAF Technologies can monitor the system.
"After witnessing the need for solar power, we were truly blessed that we could be a part of a positive change that will benefit the community of Waramanz and the health center." – Brian Baimako, MAF Technologies Technician
Image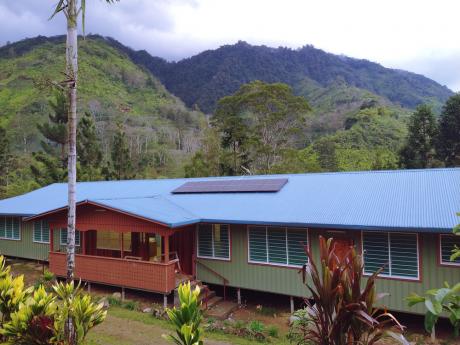 Photo: Brian Baimako and Lukas Schadegg
MAF Technologies helps churches and ministries learn how technology can make their ministry even more effective. We provide basic computer training to pastors and church workers in Papua New Guinea, where normally pastors are reliant upon the services of stationery shops to do basic tasks, such as typing up sermons.
Following one course, most participants expressed that they want to be confident and in control of what they do in their administrative roles and as preachers in ministry. One Pastor said:
"I have been writing my sermons and letting others type it for me for my sermon on Sunday. However, this basic computing course has assisted me to type my own sermon, and most importantly, I now can deliver my sermon fresh because no one has typed it for me!" 
The arrival of technology in isolated places of course has huge advantages - connection, information, increased efficiency - but it also comes with risks - porn, social media addiction, misinformation. MAF Technologies also provides Tech Talk training where we educate young people about the good and bad that technology brings.
Our existence as technology for the church continues to motivate us to speak to issues, especially information on social media and the everchanging lifestyles and cultures evolving by being part of the global village. These vital trainings also enabled us to address misinformation that was spread during the coronavirus pandemic.
Image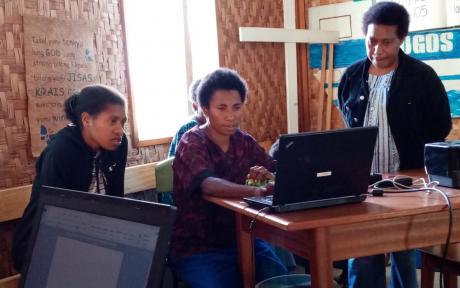 Photo: Caine Ruruk
The WiFi Bible is a little box that transmits an open wireless signal, which anyone with a wireless mobile phone, tablet or laptop can connect to and download biblical resources from for free. The small but powerful box contains Bibles (including audio ones), movies (including the Jesus film), Christian songs and apps in nine different local languages in Papua New Guinea. This equates to over 12GB of Good News!
MAF Technologies, PNG, has installed the WiFi Bible on MAF aircraft, public buses, as well as in some local businesses and schools, meaning that anyone can connect their mobile device to the WiFi Bible network and have instant access to Christian resources for free.
"We thank the bus owners who are willing to partner with Jesus to reach out to their own country men and women by allowing CRMF (MAF Technologies) to install WiFi Bible devices on their vehicles."
Image
Photo: Michael Wakefield