Image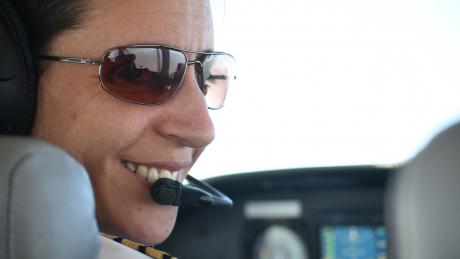 Photo: Matt Dillingham
The annual 'tournée médicale' (medical tour) has long been a feature of MAF's ministry in Chad. Working with local church partners, a doctor and an administrator are flown to remote locations over the course of a week, where they see as many patients as possible, and provide training for local medical staff.
Image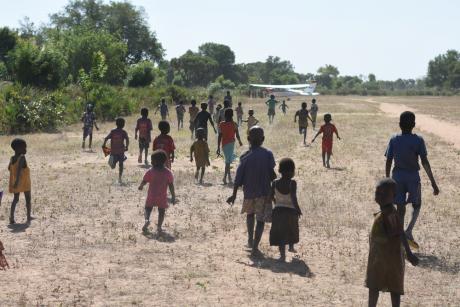 Photo: Matt Dillingham
A once a year visit
Just three months before the Covid pandemic grounded our planes, pilot Becki Dillingham flew the annual 'tournée médicale' at the end of 2019. The tournée focused on southern Chad, with Becki and the plane being based at Chageen, a village located within easy reach of all the proposed destinations.
As Becki explains, "Nowhere [the medical team] went is more than 30 or 40 minutes flight from Chageen. We could use Chageen to store fuel safely and we could have night guards for the plane and things like that."
Previous clinics have involved one night in each place, which limits the time the team has on the ground. Becki continues, "We wanted to be able to give them longer because this is the one time in the year that the doctor flies in. It seemed a shame for them just to be there for a few hours and then flying off again. It's good to be able to have two or three nights in each place. To enable that to really work well, it's good for the pilot to use Chageen as a base."
Image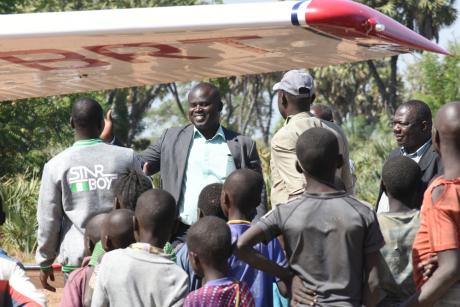 Photo: Matt Dillingham
Medical team greeting people at the airstrip
Re-establishing connections
The tournée covered six villages in total; although each one has a clinic building, there are not enough staff to manage them all, so access to healthcare is a challenge for many people. "For example, Koblagué has nobody," Becki says, "So they saw over 100 people there, which definitely had a big impact."
That visit was particularly significant as the airstrip at Koblagué has been closed for a while; having been left untended, it had become overgrown and unsafe to land on. Becki was not sure whether the villagers would be motivated to rehabilitate it, but they were prompted to take action by the possibility of the doctor's visit.
"They prepped the strip and got it ready. They could see that actually the airstrip has a purpose. Previously they had been reluctant, but if they see that when they got it ready the doctor came in and saw 100 people, hopefully they will keep it maintained! I hope that's what happens, as the team were very well received; they were appreciated."
In Chageen itself, the health worker at the clinic was grateful for the time he had with the doctor: to be affirmed in the diagnoses and treatments he is getting right, as well as being exposed to some new things.
Image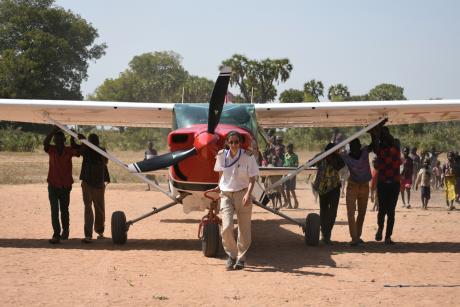 Photo: Matt Dillingham
Excitement for everyone
Thanks to the hospitality of MAF's partners Mark and Diane, who have worked in Chageen for over 30 years, Becki's husband Matt and their two children were able to go with her for the week, and witness first-hand the impact of the doctor's visit, as well as seeing Becki at work.
"The flight down was exciting," says Matt, "because it was the first time the children had been in an aircraft like that, and the first time I'd been on a MAF flight in Chad. The excitement of the children made it exciting for us."
The daily flights in and out of Chageen were a source of great interest for everyone. "We'd all go down to the airstrip when Becki was ready to leave; it was the excitement of the day, to go down to the runway with the whole village," Matt shares. "One morning, we found a chameleon on the runway. The villagers are absolutely terrified of chameleons, but I wanted to go and rescue it so it wouldn't get killed. I picked it up and the whole big crowd of people all took an intake of breath, as if to say, 'what's he doing?' It was nice to show them that these animals are harmless, and you don't need to be scared of them."
Future Possibilities
At the end of the tournée, the team were happy with what had been achieved. "They were very excited by what had happened in each place," Becki concludes. Plans are already underway for the next trip, with a focus on the eastern part of Chad; another opportunity to support our partners in bringing help, hope and healing to isolated people.