Image
Photo: Daniel Steen
In Lokichoggio, in the northwestern corner of Kenya, three teachers are waiting in excited anticipation. Soon, for the first time, they will be allowed to fly with MAF to Lotimor in South Sudan, where more than 150 students are waiting for them. 

Birgitta Arnlund shares their story.
Two days of tiring travel on bumpy roads will be reduced to about 40 minutes of air travel. 'We will be able to start teaching immediately,' says Daniel Losuru happily, when I meet him and his colleague Philip in Loki.
In 2019, the Pentecostal church in Jönköping, Sweden began making plans to resume the missionary work in South Sudan, a work that had been postponed due to the civil war. The vision is to work among the Ateger tribes - a number of ethnic groups who speak dialects of the same language but who are in conflict with each other and quarrel over cattle, women, water and pasture land. One of these tribes, the Nyangatom, lives in Lotimor.
Image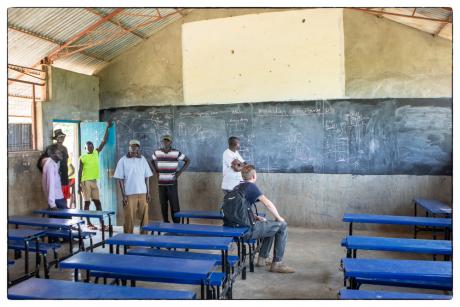 Photo: Daniel Steen
Back to school 
The local Pentecostal movement has been preparing a school building that was built originally by the Catholic Church. In early 2020, three teachers from Lokichoggio were sent there to start teaching. They belong to the Turkana tribe and worked previously as teachers in South Sudan and were happy when they were assigned to Lotimor.
Unfortunately everything stopped due to the Covid-19 pandemic and the school was closed on 2nd April 2020. 'We had to stay until September because the border with Kenya was closed. It was difficult especially as there is no internet in Lotimor.' 
With great enthusiasm, Daniel and Philip continue to tell how more and more students are coming to the school, many of them girls. These students are happy for the food that they will receive and for the 50 school desks brought in from Lokichoggio where they were designed and constructed out of steel by former MAF pilot Kea Arnlund, so that they will not break easily.
The teachers are happy to be able to carry a large amount of school materials with them on the flight. The only thing they are waiting for, Daniel says, is the plane to land.
Image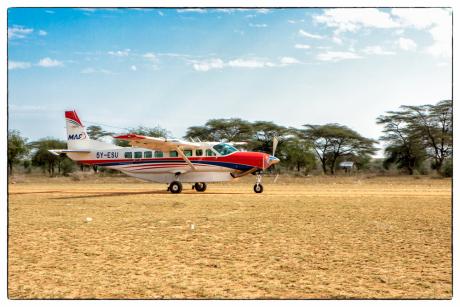 Photo: Daniel Steen
Lotimor landing
MAF pilot Daniel Gill picks up the story.
'I bring the plane into land in Lokichoggio where the three teachers are ready and waiting. Amongst the cargo is food to keep them going for the next four or five months, and school supplies, including books and workbooks.
'We take-off again for Kapoeta, where the teachers can pass through immigration. It's all very organised. They've already sent their details ahead and the official comes to the aeroplane on a motorbike to bring the visas for their passports, soon we're flying again for the 45minute flight leg to Lotimor.
'Between Kapoeta and Lotimor - a distance of more than a hundred miles - I fly over one other town. There's remote - and then there's Lotimor-remote. In my three years serving in South Sudan, MAF has only flown there a couple of times. It's a proper bush flying day; I'm pilot, dispatch, logistics and customer service rolled into one.
Image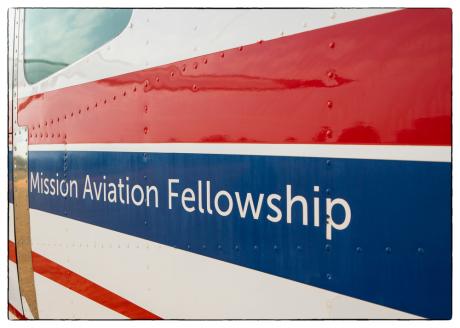 Photo: Daniel Steen
'The scenery is amazing. South Sudan has mostly low lying terrain, but east and north of Lotimor there's a big plateau where you can physically see the border with Ethiopia rise up one or two thousand feet. The hills are in the distance as we descend into Lotimor.
'The landing is dramatic. The short, 650 meter airstrip peaks in the middle - dropping away at the halfway point, with low thorn bushes and big rocks either side of the runway. 
'The teachers say their farewells as they head off towards the village with locals carrying the cargo items on their heads. There are no cars or vehicles, just a thirty-five minute walk into the village.
'Having left early, we get back late. It's been a big day with a lot of flying. It's a good reminder for me of what isolation really means!'
Image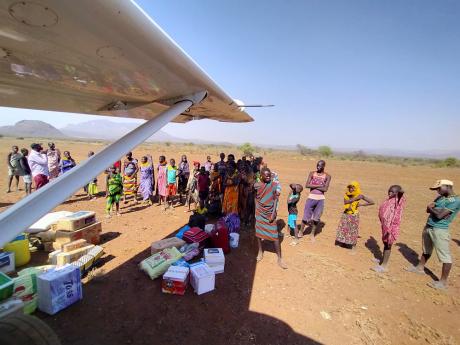 Photo: Daniel Gill
Reaching a community for Christ
James Lado, General Secretary of the Sudan Pentacostal Church (SPC), shares about SPC's vision for the school and needs in the community:
'The primary school has 245 registered pupils. At the moment we have two classrooms. Other classes are being taught under the trees. We are hoping, every year, to be able to add one class or two depending on the availability of funds. We shall continue to bring in teachers from outside the area since the people of the area do not have the manpower.
'The people of Lotimor have suffered a lot in South Sudan. They are a community that many people in the country do not know. They are behind in every aspect of life including physical and spiritual development.
'Our vision is to reach the people with the gospel and bring development to the people of Lotimor through different means. SPC is determined to support the people Lotimor and stand with them until we see to it positive change is realize in Lotimor and its surroundings.'
Image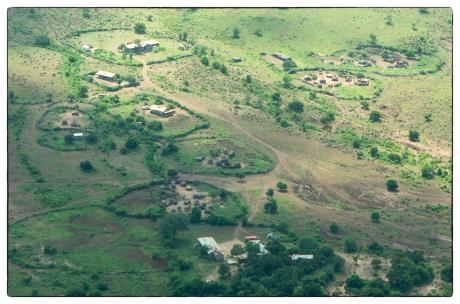 Photo: Daniel Steen