Image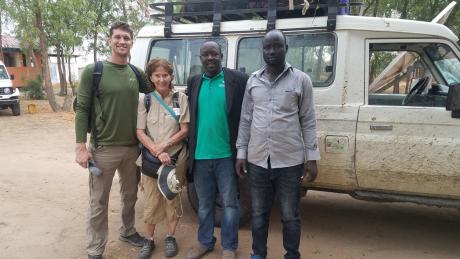 Photo: Southern Sudan Healthcare Organization
MAF flew a team from a South Sudanese medical NGO led by a former lost boy of Sudan to his hometown of Maar where he runs a clinic. Along with the passengers are 140kg of prescription drugs and medical supplies
Dr Jacob Atem, the co-founder of Southern Sudan Healthcare Organization (SSHCO) talks with the enthusiasm of a kingdom visionary. When he started his charity twelve years ago, in March 2008, Southern Sudan was the ten underdeveloped states at the bottom of Africa's largest country.
'We created this organisation with an idea of bringing hope and help to the people of South Sudan,' Dr Jacob explains, We built a primary healthcare centre in Maar - because charity begins at home.'
Beginning at home
I co-founded this organisation based on the scripture, "from whom much is given, much is required" (Luke 12:48). 'That scripture is what really impacted me,' Dr Atem attests.    
'I went to the US with nothing. I worked hard and was fortunate to be given an opportunity to go to school. This is a way for me to give back and be grateful. Why should we be selfish when we think of other people?' he challenges.
'We say Southern Sudan Healthcare Organization for a reason,' Dr Jacob told me - expanding on his hopes for the future of the organisation. 'The aim is to eventually go into South Sudan as a whole.'
As practical ministries with spiritual roots Jacob can see similarities between MAF and SSHCO. 'We do one mission in South Sudan, to impact the South Sudanese. MAF have been here 50 years? Because you really, really love the people. The service you provide helps sustain some of us who are in the humanitarian field.'
Preventing and treating
Of the 1,500 patients that seek help from the clinic each month, he estimates 40% have malaria and 30% diarrhoeal disease. One in four are children and infants under five years of age. 'The public health issues that we address are very, very easily treatable,' he explains.  
Easily treatable conditions are amongst the biggest killers in South Sudan, a country where one in 10 children will die before their fifth birthday, the average life expectancy is 57.6 and maternal mortality rates stand at almost 789 per 100,000 live births.
The tragedy of the latter statistic has brought one of the passengers, Dr Linda Morgan, an obstetrician gynaecologist all the way from Florida to evaluate the maternal health problems in Maar. 
'We want to expand the clinic's capability,' explains Chief Operations Officer Chase Bleke. 'Maternal and child health is one of the biggest needs. 'We're going to see if there is something realistic and reasonable that we can do,' he explains.
Distinctive mission
Jacob explains how few resources can go a long way and create a significant impact in the hands of his South Sudanese clinic team.
Their warmth and enthusiasm is picked up by pilot Danny Gill as they board his plane. 'We tend to have quite big established NGOs working here. Having a South Sudanese guy setting up this South Sudanese NGO bringing in people from outside seems quite unique,' Danny shares. 'they're just excited to go out and get into the work!'  
Chase reported back later on how the team got on: 
'Despite having to condense our initial three-week trip into four days, we accomplished several vital objectives during our time in South Sudan. We were able to get so much done in just that short time, and we were able to knock out some critical meetings that will help us continue the effort in a big way moving forward!'
'Flying with MAF was stellar - Danny was great and your team was beyond helpful and flexible with us as our travel needs developed very late in the game. We had a wonderful time meeting everyone there, and we were all very impressed with the professionalism and capabilities of the MAF team.'