Image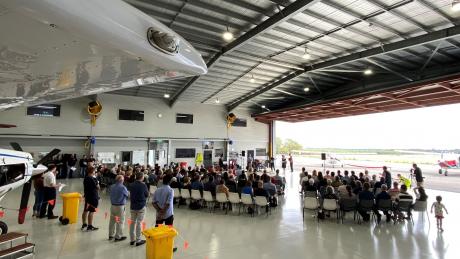 New Mareeba maintenance facility - official opening June 2022
MAF's new Mareeba hangar in Queensland, Australia, was officially opened on 24th June 2022
The purpose-built facility is the base for MAF International's aircraft maintenance operations in the Asia Pacific region. Aircraft from MAF programmes in Arnhem Land, Bangladesh, Papua New Guinea and Timor-Leste are all serviced through the Mareeba workshops. Members of the Mareeba engineering team also visit programmes to carry out routine and unscheduled maintenance and repairs on aircraft.
Welcome
Phil Sproul, Director of Technical Operations, welcomed staff and guests, including local dignitaries, and began the celebrations.
"As we gather in the presence of God, we acknowledge the Traditional Custodians of the land upon which we meet here in Mareeba, and also those Traditional Custodians from each of the Lands where MAF works and serves. We respect those who have gone before, Elders present and pray for those emerging, recognizing their continuing connection to land, sea and community."
A time of thanksgiving
Chief Operations Officer, Norman Baker, followed by thanking the many people and organizations that have contributed in so many ways to bring the two new hangars into operational status. With reference to Psalm 100, he shared that it was appropriate to "Enter into His gates with thanksgiving." David Fyock, Chief Executive Officer, picked up on the same theme, stating "It is a beautiful morning to celebrate what God has graciously provided for us," sharing of his dream in 2017 to have facilities in Mareeba designed "for the future role I envisioned it to play in the organization."
"Psalm 127 v1 says, 'Unless the Lord builds the house the builders labour in vain.' By the end of 2019 it was clear that God was helping us to build this new house."
Image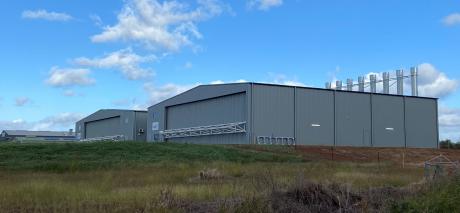 MAF's new hangars at Mareeba, Australia
Dedication
It was a true day of celebration, reflecting on all that has happened, both the challenges the world has faced since then and the contribution and collaboration by many to enable this day to come. David concluded by dedicating the new buildings to God's honour and glory.
The new aircraft maintenance facility has been designed to provide sufficient space and functionality for MAF's current needs and provide capacity and space for future expansion of services. Without the expertise and dedication of our engineers our aircraft cannot fly; they are essential in enabling MAF to fulfil its mission to bring help, hope and healing to isolated communities through aviation.