Image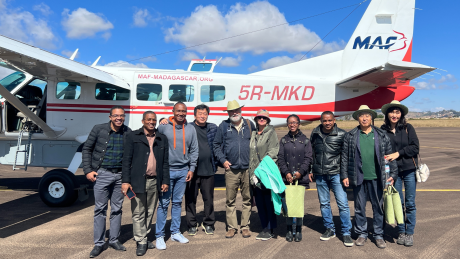 Bible translation team in front of MAF plane on airstrip in Fianarantsoa - Photo: Irina Randriamandrato
MAF flew an FJKM (The Church of Jesus Christ in Madagascar) team to Fianarantsoa. Their mission was to distribute Bibles that had been translated to Malagasy.
Three days later, MAF pilot Wouter Nagel, flew back down to Fianarantsoa to pick the team up.
The translation team shared their experience with us: "It went very well," said Larry Clyde, "The people were all very happy, and surprised even, to know that it is possible to have a Bible in their native language. They welcomed us with open arms."
They had flown to Fianarantsoa with 10,000 translated Bibles that had been shipped from Korea. On the Sunday, after church, they sold 2,000 bibles. Over the days that followed, twelve teams went into the town for evangelism and bible distribution.
Larry Clyde shared, "It took two years to do the translation (to Malagasy). No one has ever done a full translation as quickly, it was great."
Image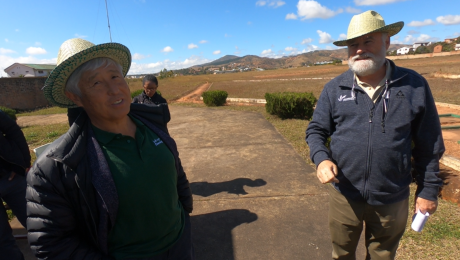 Younghuem Ohm and Larry Clyde - Photo: Irina Randriamandrato
Younghuem Ohm, the international coordinator of the project, told us that they began the translation project about 4-5 years ago starting with translations in four languages at first and it evolved from there. "Thanks to different connections, we raised funds to print the 10,000 Bibles in Korea and had them shipped here (Madagascar)."
In May of 2022, Younghuem Ohm was in the south of the island to assist people affected by the drought. "The job involved food distribution, church building, building water tanks. Basically, anything we could do, we did the necessary." On previous mission visits to Fianarantsoa he has provided training for pastors and bible teaching in the FJKM Bible college.
Image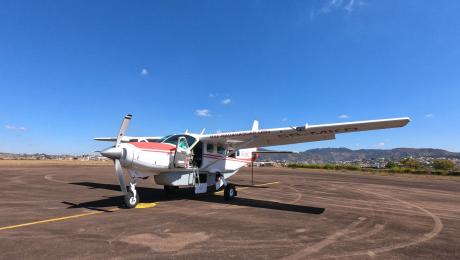 MAF plane on airstrip in Fianarantsoa - Photo: Irina Randriamandrato