Image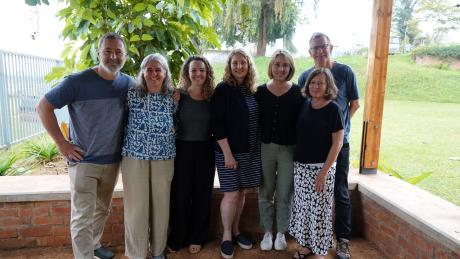 Left to right, Paul Grover, Jane Grover, Heather Matheson, Jenny Holman, Philippa Tyndale, Julie Heap, David Heap. Photo Credit: Damalie Hirwa
MAF flies Australian team as they join with their local partner to bring help, hope and healing to teenage mothers in Northern Uganda
On Friday October 21, 2022, a team of seven Australians, led by the Chair of Te-Kworo Foundation Australia, Philippa Tyndale, hit the skies aboard a MAF aircraft 5X-FRM. The team was heading to Pader district in northern Uganda, to meet over 300 girls whose studies they sponsor at Kworo High School and to launch a new project to build a maternal health hospital in Agago.
Pader and Agago are two of Uganda's remotest districts, characterised by under-resourced schools, and a lack of essential health facilities.
While the education of girls is increasingly becoming accepted as vital to the future of Africa, many communities, especially in places like northern Uganda where Pader district is located, are unable to provide opportunities for girls to make the shift.
Not hundreds, but thousands of girls in this part of the world were defiled during the Covid-19 lockdowns in 2020 and 2021. Teenage pregnancy in Uganda is synonymous with dropping out of school, so the few who had been enrolled into school are now new mothers or expecting a baby, and unable to continue their education.
"There has been a lot of stigmatisation of girls with babies," said Philippa Tyndale. "Kworo High School in Nwoya is set up to cater for the needs of teenage mothers and their babies. Most of these girls got pregnant during Covid through violation or coercion. The teenage girls at the Nwoya school are doing both academic and vocational studies, while the Pader campus is mostly academic studies and vulnerable girls without babies."
An October 2021 report released by UNFPA indicates that a total of 354,736 teenage pregnancies were registered in 2020, and 196,499 in the first six months of 2021 in Uganda. Most of these girls may never get a chance to return back to school.
Alice Achan, the founder and director of Te-Kworo Foundation in Uganda, together with her team, have been combing through villages in Pader to return 300 bright, capable girls who through poverty or pregnancy were unable to return to school.
Philippa says that their target is to support 500 girls across three locations.
"MAF is very much a part of our experience and work here in Uganda. The pilots are incredibly well trained and safety conscious. It is a mission-driven organisation and I feel they are very much a partner in what we are doing. It would be hard for us to travel vast distances on the roads, but MAF makes it safe and easy for us to access the projects," she added,
Image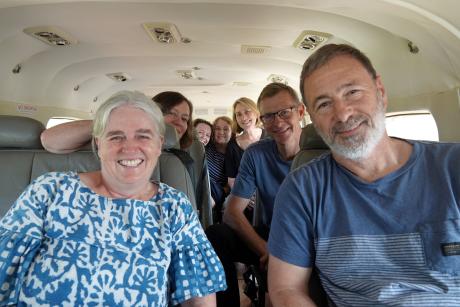 Damalie Hirwa
The team took a photo moment inside a 5X-FRM upon landing at Pader Airstrip
Using an MAF aircraft saved Philippa and her team 18 hours of road travel on a round trip.  
In 2017, Te-Kworo Foundation broadened its services to provide maternal and child health solutions to residents of Northern Uganda, with the opening of a Maternal and Child Health (MCH) clinic in Pader Township. With the ground-breaking of a proposed maternity hospital, called Kworo Hospital in Agago district, mothers will have a safe space to deliver their babies by 2024.
"Adolescent health and maternity services will be key. Agago district has no government hospital, and the nearest facility that serves over 200,000 people is accessible in two hours' time. Mothers in this area don't have basic care. Most of them lose their babies under one year," Alice said.
The foundation is partnering with others in Australia to give support to the hospital, including Barbara May Foundation (BMF), founded by Dr Andrew Browning, a leading surgeon in the area of obstetrical fistula. The Kworo hospital will be the 5th maternity hospital for BMF in East Africa, with others in Ethiopia, Tanzania and South Sudan.
"The hospital to aid 700 births on an annual basis in its initial stages will take a year to build and construction will start in the first half of 2023," said David Heap, from the Australian architectural firm, NBRS which specialises in hospitals, schools, and public spaces. 
Image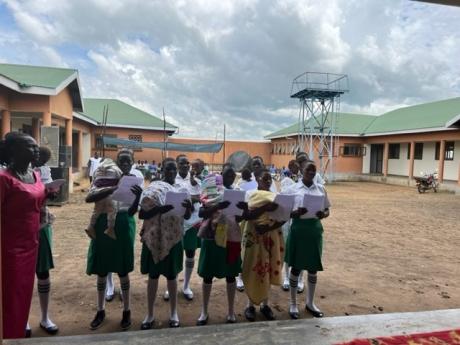 Te-Kworo Foundation
Some of the teen mums that were taken back to school
The health facility will have two operating theatres, and a 26-bed capacity will go a long way in supporting women who die every year while giving birth due to maternal complications in the area. Currently, the nearest health facility that has the capacity to carry out emergency c-sections and other surgeries is accessible in not less than two hours.
The organisation runs two ambulances and two mobile health clinics out of Nwoya and Pader, that have been to 12 districts so far. In 2022, the mobile service has run 230 outreaches, reaching close to 30,000 clients, and made 143 referrals to larger hospitals.
Philippa is thankful to partners that contribute funds towards these projects.
"We've been on this journey with Alice Achan and the team for many years now. We're part of a faith community in Australia that is extraordinarily generous, and many of us know that with privilege comes the responsibility to look outward to the needs of others. There's joy and purpose in doing this work, and we consider ourselves blessed to be able to be part of what Te-Kworo is doing in northern Uganda," she said.
Christian Counselling Fellowship was founded in 2002 to help receive children back from rebel leader Joseph Kony war and re-unite them with their families. It finalised its rebranding to Te-Kworo Foundation in 2022.
Kworo is a symbolic tree where elders meet and make decisions in northern Uganda. The first meeting of the organisation was held under a Kworo tree, thus the name Te-Kworo.