Image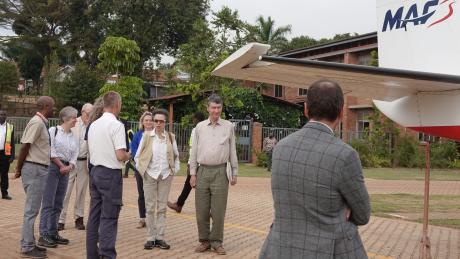 Princess Royal at Kajjansi Airstrip preparing to board 5X-LDR Photo Credit: Damalie Hirwa
When a senior British royal visited Uganda, she spent two consecutive days using MAF planes to reach remote locations                                                                                                              
The Princess Royal has flown with Mission Aviation Fellowship on her visit to highlight projects to support refugees in Uganda.
On her first overseas tour since the death of her mother Queen Elizabeth II in September, the Princess took two MAF return flights from Kajjansi Airstrip, near Kampala, saving her several hours of travel on roads in poor condition.
Princess Anne was in Uganda to support charities she is patron of, but she also took a keen interest in MAF's work serving the people of Uganda.
On Wednesday October 26, 2022, Opportunity International opened the first bank ever to operate at a refugee camp, which allows thousands of displaced persons in Nakivale refugee settlement to grow their finances through banking services and loan schemes.
The bank was flagged by the Princess in company with her husband Sir Timothy Laurence.
Princess Anne is patron to both Opportunity International and Save the Children Uganda that are involved in provision of financial services and supporting vulnerable children respectively.
"The Princess is excited about the work we are doing at Nakivale settlement. She's elated that we are giving refugees a chance," said Owen Amanya, CEO Opportunity Bank Uganda. 
"She asked us to replicate the ideas we have in Nakivale to other refugee centres and we already have a plan."
Nakivale, the oldest refugee settlement in Africa is located in South-Western Uganda, about 200 kilometres from the capital Kampala.
Image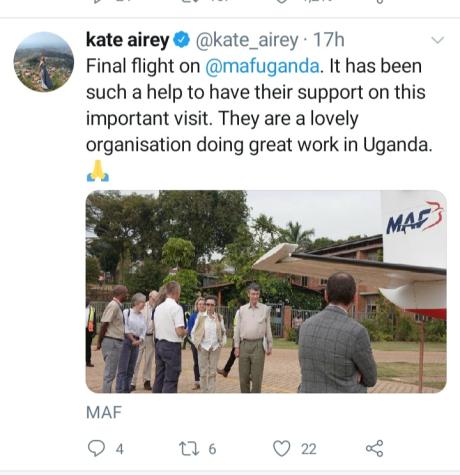 UK High Commissioner to Uganda - Kate Airey
Princess Anne and her entourage were flown to Mbarara airstrip, the nearest airstrip to Nakivale aboard a Mission Aviation Fellowship, 5X-LDR aircraft. Also on the flight was British High Commissioner to Uganda, Kate Airey and Cliff Hampton, the chairman of Opportunity International.
Flying with MAF saved the Princess and her team approximately 7.5 hours on the road to Nakivale on a round trip. The area still grapples with a poor road network.
Mission Aviation Fellowship flies to Mbarara often to deliver aid, including food, drugs, medevacs and evangelists who take the gospel of salvation to remote villages.
In her conversation with Ruth Jack, the country director, MAF Uganda, the Princess was keen to learn if the airline operates across the entire country.
MAF has been offering humanitarian flights to support refugees in Uganda since the 1950s and has partnered with organisations including Save the Children, UNHCR, Opportunity International, WFP, UNICEF, World Vision and among others.
Image
Princess Royal at Kajjansi Airstrip Photo Credit: Damalie Hirwa
Sam receives Princess Royal and her husband at Kajjansi Airstrip back from Kyangwali Refugee Settlement
"MAF flights regularly support growing populations of refugees – particularly in the north-west where almost one million South Sudanese people have fled horrific violence and are starting to rebuild their lives. It is encouraging to see the Princess sharing our vision to serve those who have recently fled brutality from Eastern Congo – and MAF hopes to continue being part of the humanitarian response long into the future," Ruth said.
The new Opportunity Bank branch at Nakivale will support refugees with loans, and other banking services, and this is expected to grow their agricultural and handcrafts ventures.       
The flight to Mbarara was one of two royal MAF flights. The second was to Masika airstrip on Thursday October 27, where Princess Anne visited another refugee settlement near the banks of Lake Albert, in the west of Uganda.
"It's been a privilege to fly Her Royal Highness, Princess Royal as she shows her support for the people of Uganda and refugees who have found sanctuary here," Captain Andrew Parker, the pilot on both flights, said.