Image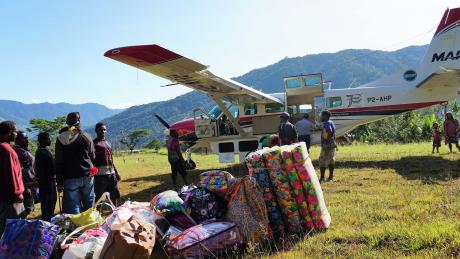 Mandy Glass
Mattresses, blankets, pots, and other store goods appear on the side of the airstrip as the aircraft gets unloaded at Simogu. It all belongs to Michael Aino and his family. 
"We could go by rugged mountain roads and cross big rivers," explains Michael Aino before boarding the aircraft at Goroka. "It takes us two days and two nights to get there. When we schedule a flight with MAF we have chances to just fly over by MAF to Simogu. 
Image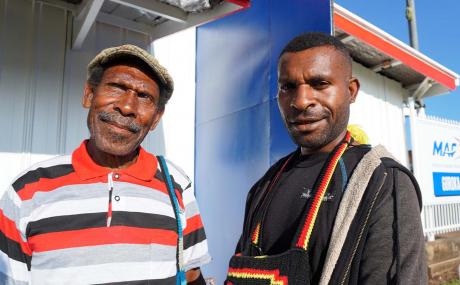 Mandy Glass
Patrick, treasurer, & Michael Aino, headmaster of Wantakia Community School
Simogu - a village nestled on a mountain side 
Simogu is one of the poorest communities MAF is serving out of Goroka, hardly flying any trade store goods in, or taking out coffee as we do for other communities in the nearby Marawaka Valley. 
The flight to Simogu takes about 25 minutes. The nearer we get to Simogu, the fewer roads are cutting through the terrain. Grassland patches and huge areas of thick forests are making the countryside with its mountain ridges and meandering water streams in the valleys look beautiful from above. To overcome this terrain by MAF plane is surely the easy way.
"My travel into Simogu is to resume classes as a teacher at the Wantakia Community School at Simogu, in the Marawaka Valley. This is my mission," continues Michael. "We do have near 350 students in the school. We do have three teachers, but I want to add another one. The school goes up to Grade 6, but I am working towards making it up to Grade 8 next year."
Image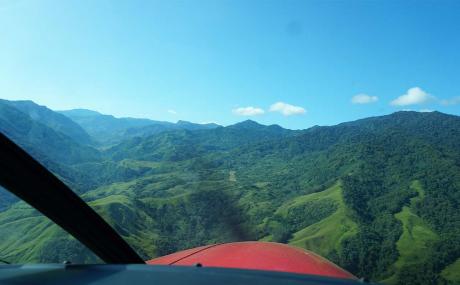 Mandy Glass
A patient needs to travel
Simogu does not have a mobile phone network or an HF radio, which makes communication and flight scheduling for outbound needs challenging. 
Our MAF pilots know to be flexible when on the ground at Simogu. Today, an elderly woman is seeking to get on board as she needs medical care at Goroka. It takes time to find a guardian and discuss the payment. At least some of the fare needs to be contributed by the people.
Image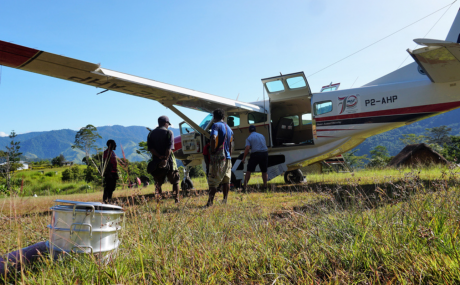 Selling Bibles at Simogu
That cash is short in the community is obvious as the pilot opens his Bible Box and advertises the sale. Even though he is quickly surrounded by several people, he only sells two. One father purchases a Tok Pisin Buk Baibel for his boy, telling him to give it to his teacher so he can read it in class.
 
Image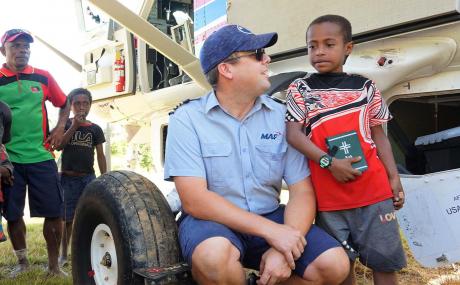 Mandy Glass