Image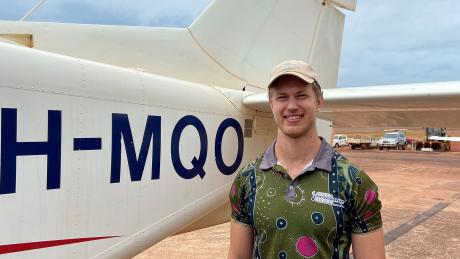 A weekly service
South African born Ruan Stewart catches MAF's regular flight from Gove to Elcho Island on a weekly basis for a two-day visit. For the past seven months he's been working in Australia's Northern Territory in Arnhem Land as a physiotherapist, primarily serving people with disabilities.
Supporting mental health
'A lot of my clients actually have mental health issues,' Ruan shares. 'A lot of them have issues with cognitive processing, speech issues, intellectual issues. Maybe they have a lot of depressive feelings, anxiety, so they don't want to get out of the house - a lot of the time due to substance abuse, unfortunately. So, I try to encourage them to get out of the house, because although physiotherapy doesn't cure the mental health issue, it at least provides a little bit of a boost in happy hormones. So hopefully long term, with regular exercise and activity, it will improve their moods and help them feel a bit better. It's as an adjunct to medication and other forms of therapy.
Machado-Joseph Disease
'I also have other clients. A big one here is MJD, Machado-Joseph Disease. It's quite a unique neurodegenerative disorder primarily in this region, and only in the Aboriginal people. It's passed on generation by generation and is kind of like motor neuron disease. Patients will eventually pass away because of respiratory disorders; they'll get a chest infection and can't get better, so they get weaker through their muscular system. 
'So, I see some of those cases, and then other ones with strokes, maybe they lost a leg, maybe they had a brain injury if they had a spinal cord injury. The work is quite varied, but the mental health cases are probably 50 to 70% of my caseload.'
Culturally appropriate
'I feel like I'm a coach or a personal trainer at times. I work together with occupational therapists here, as well as support workers in town. They help me get patients out and we'll work together to do a culturally significant program, especially for the men.' For example, 'We'll get them to the beach, we'll collect some firewood, they'll make a fire, we'll make some sort of food, and then we'll take them fishing or something, and then I'll try add in some exercise with it. So, it's us all working together to get them back to do what they used to do. The indigenous people are very connected to their land, and they love going fishing, they love making a fire on the beach. Because of the mental health conditions, they're not doing that, so if we get them out then it helps them feel a lot better and more connected to their culture and to their land again.'
Subsidized flights make a difference
There are other air operators flying in Arnhem Land, so why does Ruan choose to fly with MAF?
'I think MAF is unique in that they help a lot of health professionals and teachers to get to these places, and a lot of the flights are subsidized through all the donations to make it more affordable,' states Ruan.
The Australian government provides a National Disability Insurance Scheme for people living with a disability (https://www.ndis.gov.au/ ). Ruan's travel costs (a seat on our regular shuttle service) are included in the cost of the physiotherapy services provided to patients, which are covered by patients' disability insurance funding. The amount of funding available to each person depends on their individual case and is capped. 
'So if I were to go with a charter each week,' says Ruan, 'it would be much more expensive and would use more of the disability insurance payments people get, so they wouldn't be able to afford as much therapy.'
He concludes, 'Because MAF is more affordable and more accessible, it means people can have more access to other services they need, whatever it might be to help them live as normal a life as they can, or to improve their quality of life.'
Unexpected conversations
As well as being a physiotherapist, Ruan is also Christian and enjoyed an unexpected side to the work. 'It's been really unique working up here in Arnhem Land, 'he says, 'because the Aboriginal people are inherently spiritual. I've had way more opportunities to speak about Christ in my workplace here than I did back in Perth, where I was working in private practice. There it can be quite challenging to bring up conversation about religion in general, let alone what God has done for us. So, in that sense, I feel like I can speak the gospel more in my workplace here than anywhere else. I've really enjoyed that part of it and it's just amazing to see the want in the people, they want to learn. They'll ask questions and it just makes sense to them that there would be a god, and that would be a God that loves them.'