Image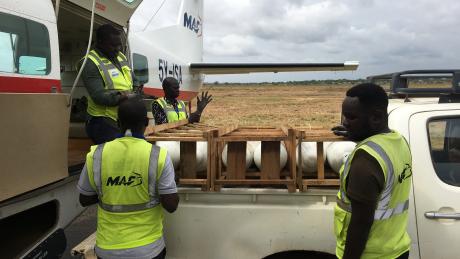 Jonathon Pound
Hospitals across South Sudan are benefitting from a consistent supply of medical oxygen thanks to a partnership between AMREF and MAF
It takes a minimum of four strong people to load each pair of oxygen cylinders into the plane. For the dispatchers, groaning under the weight of the 130kg load, it is worth the effort. Each of the huge white canisters will save multiple lives.
Medical oxygen is an essential part of supportive care for a wide range of illnesses from pneumonia to childbirth complications. Without oxygen, it would be impossible to carry out surgeries or treat traumatic injuries sustained in road accidents. Without oxygen, the most fragile patients, including the young and the elderly, would quickly lose their battle for breath. 
Until recently, oxygen was not widely available in South Sudan. Hospitals outside Juba had little or no access to a regular supply of bottled oxygen, relying on oxygen concentrators, machines which extract oxygen from the air and require a reliable electricity supply to function. Hospitals most often use diesel generators and suffer frequent fuel shortages, meaning when the fuel runs out the oxygen stops.
Lack of access to medical oxygen in countries like South Sudan was highlighted during Covid. At the beginning of the pandemic South Sudan was reliant on imported oxygen. Supplies quickly dried up and oxygen producing countries began to prioritise their own needs over export demand, as Peter Claver, Head of Programmes for AMREF South Sudan explains: 'COVID-19 was a crisis which taught most countries a very critical lesson. People started learning how to set up systems which can save lives and support people within their own country.'
Image
Jenny Davies
Image
Jonathon Pound
With only 400km of paved road in South Sudan and severe safety and security challenges facing travellers, AMREF reached out to MAF to ensure the oxygen's safe transport. 'In locations where we can't reach by road, we go with MAF. We didn't want to work with any other airline in this project, only MAF,' Peter explains.  
MAF South Sudan has approval to fly Dangerous Goods through the Kenya Civil Aviation Authority. The protocol requires two MAF staff on every flight, to receive the empty cylinders, which are brought back to Juba for refilling as part of an ongoing project to ensure hospitals continue to receive a reliable supply. 'When they have used the supply, we give them more cylinders. Already, we are beginning to ship the empty ones back for refilling and give them the full oxygen cylinders instead,' Peter says. 
A new oxygen plant, capable of generating 2,500 litres of oxygen per day, was opened at Juba Teaching Hospital in September 2021 with support from the World Health Organization, European Union, and African Development Bank. As one of the largest healthcare providers, with a track record of successful service delivery, AMREF was called in to help the Ministry of Health make the most of this new facility, as Peter outlines. 'When the oxygen plant was established, AMREF was asked how we could support the Ministry of Health in the production, packaging and distribution of oxygen. It's a national project reaching out to all corners of the country.'
Image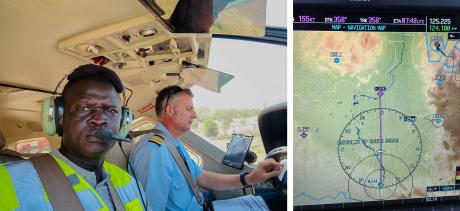 Wek Chol & Jono Pound
MAF's Dangerous Goods Co-ordinator, Pilot Jonathon Pound, has carried out many of the flights including a flight last week to Malakal and Yida.
'We were welcomed by the people on the ground who were happy to receive the next batch of cylinders. They knew exactly what they were and appreciated us bringing them. They explained to me that they really need a bottle supply because they can't rely on the supplies from the oxygen concentrators, because they are useless when the power goes off,' Jonathon explains.
Jonathon made the first flight to Malakal in March. 'The first time I dropped off the supply at Malakal they told me it couldn't have come at a better time, because they had an outbreak of cholera and were desperate for oxygen to treat the patients.
Image
Wek Chol
In May, the needs were equally as apparent. Malakal is dealing with an influx of refugees due to the recent crisis in Sudan. Ground Operations Manager Wek Chol, who accompanied Jonathon, reflects on the impact as well as the need. 'For the people being helped in the hospitals, who are sometimes in very critical conditions, the oxygen is lifesaving. It is a fantastic project.'
MAF have flown 56 cylinders to eight locations since March with more flights in the pipeline. The impact has been significant according to Peter, who has heard many positive reports.  
'The supplies have been welcomed by the hospital staff. Health care workers in those facilities are excited and happy that they are able to access oxygen and respond to the patients that require oxygen, especially pregnant mothers who are going to facilities for deliveries and some emergencies. The staff said that their services had really improved,' Peter says.
Image

Jonathon Pound