Image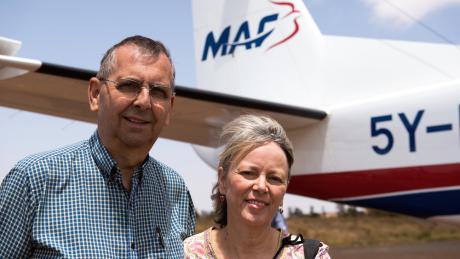 Sauti Moja directors, husband and wife Tim Wright and Lyn Bishop, at the airstrip in Marsabit, where the organisation has a base. - Photo by: LuAnne Cadd
MAF Kenya has for many years facilitated flights for partner organisations and donors like Tim Wright of Sauti Moja Canada to Marsabit, northern Kenya, where he supports community-based partners who are building resilience and hope for marginalised pastoralists
One of the inspiring success stories from the work of Sauti Moja Canada, and partner organisation Raising Education and Training Organization – Among Pastoralists (RETO-AP) is Catherine, who has built a brighter future after dropping out of school when she became pregnant.
At only 16, Catherine dropped out of school and was forced to stay home with her mother and siblings and wait for the arrival of her child. When her child was only four months old, she found labouring jobs to raise money to support herself and the entire family.
While hunting for opportunities, Catherine met a woman who had just given birth in the neighbourhood and needed a nanny to take care of her child. She jumped at the opportunity to try to make ends meet. During her day-to-day chores, she met Martha, a community development worker whose vision is to support and advocate for vulnerable girls and women to meet their dreams that are shut down by culture and stigma.
Martha held a conversation with Catherine at her employer's compound and shared that she went around the community looking for young girls who had dropped out of school and wished to go back to study. Fortunately, Catherine was willing to go back to school and continue with her education.
Catherine is a champion and a beneficiary of education sponsorship from the Raising Education and Training Organization – Among Pastoralists (RETO-AP). The organisation focuses on building the resilience of the pastoralists and semi-pastoralist communities with a target on female-headed households and vulnerable girls supporting them in education needs, food insecurity, health and improving their livelihoods.
"At RETO-AP, we are providing resources, training and developing skills to vulnerable people transforming their lives since dependence on single livelihoods and negative cultural practices have negatively impacted their lives," said Martha.
Catherine said: "I was lucky to go back to school in 2013 for the four-year secondary education. Martha provided me with everything I needed in school for tuition, uniform, sanitary kits, to pocket money. At the school I received great support from my teachers and the school church minister since it was a Christian school and I pushed through the four years well.
"After the final examination, I went to live with a relative in Marsabit town where I tried different labouring jobs and saved every coin from my wages. After I had saved a good amount of money, I enrolled for college in 2017 for professional training in teaching with the support of RETO-AP and completed my studies last year."
Tim, the founder of Sauti Moja Canada, says his organisation is better able to support groups like RETO-AP thanks to the MAF flights in Kenya.
"We so much appreciate the important contribution of the MAF team to our humanitarian work, providing us, partners, and donors with kind consideration, safe travel and timely delivery of supplies for the past 24 years," said Tim. Catherine became a teacher for early childhood and worked in Marsabit County for a while before her contract ended.
Image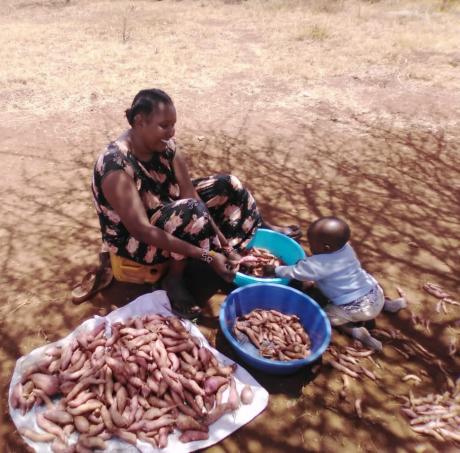 Catherine getting her harvest ready for the market in the company of her son. - Photo by: Catherine
She later got a sponsorship from a development partner and took part in a training course on land preparation, drip irrigation installation and effective use, seeds, nutrition, crop rotation and protection.
"As soon as I went back home, I prepared my piece of land and planted orange flesh sweet potatoes and the harvest was big," said Catherine.
"I sold half of the harvest and made 62 dollars and saved the rest to share with family and close friends. I am currently growing vegetables (kale and spinach) practising crop rotation and once I harvest them, I will prepare the land to plant the white and purple flesh potatoes.  
"I have received many requests from members of my community to teach them farming based on what they see me doing. I have supported them in kitchen gardening, preparing nurseries and transplanting."
Image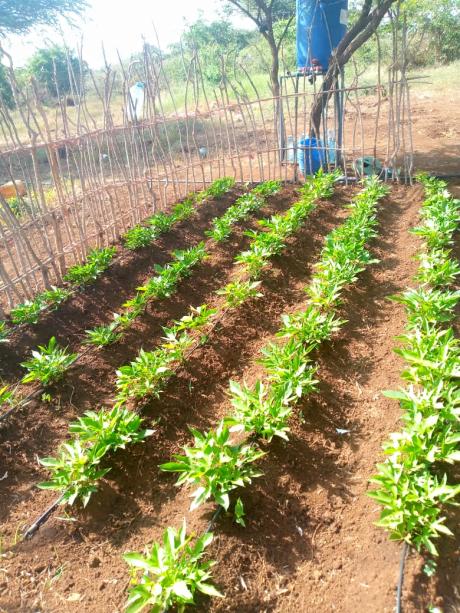 First planting of orange flesh potatoes on Catherine's piece of land. - Photo by: Catherine
The people in Marsabit have depended highly on keeping livestock but due to the climatic changes, they have not received any rainfall for four consecutive years causing drought and harsh living conditions. The people are forced to stay hungry, and their livestock have died.
"With more education and training on farming, the people in these Arid and Semi-Arid Lands (ASAL) communities are willing to learn a new way of survival and more sustainable to provide food on their table for their families and sell the surplus to make income," said Catherine.
Written by: Jacqueline Mwende
Photos by: Catherine