Image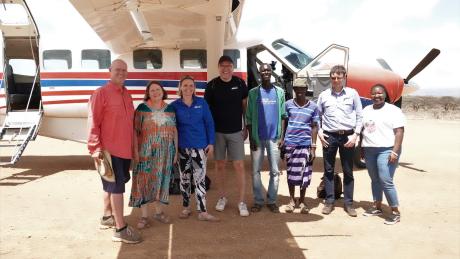 From left to Right: Eddy and Amanda Simmons, Kristina of MAF International and Peter, the MAF Denmark CEO, Pastor Francis, Suruai, MAF Pilot Christiaan and Jacqueline, the Communications Officer MAF Kenya at Sesia airstrip.
A mission bringing healthcare, fresh water, and Bibles to isolated communities in north-central Kenya is helping the semi-nomadic people group to share the gospel in their own authentic way.
Free Will Baptist International missionaries Eddy and Amanda Simmons are frequently supported by MAF Kenya as they achieve encouraging results while focusing on the physical and spiritual needs of a tribe facing huge challenges.
The couple minister to the Samburu people through discipleship, worship gatherings, oral Bible teaching, solar MP3 players, a medical clinic and clean water projects but they work with two Samburu men trained by Eddy to lead the worship gatherings. It is these local voices that can have a lasting impact.
"Our aim is to have an indigenous, reproducible ministry that will look, sound and feel like the Samburu," said Eddy.
Image
From left: Kristina, Amanda, Eddy and Peter having talks in Sesia. - Photo by: Jacqueline Mwende
They have recorded 143 Bible passages from the recently published Samburu New Testament and loaded them onto the solar MP3 players that they distribute to new believers that do not live near the worship gathering areas.
"We will soon add 50 stories from several books of the Old Testament onto the solar player," added Amanda.  
To provide clean and safe drinking water to the people of Sesia, the couple has led water projects drilling three wells.
"There is a need for transformation among the Samburu people, and Amanda spends her time educating both the women and men using a holistic approach to improve their health, wellbeing, and spiritual journey," said Eddy.
Image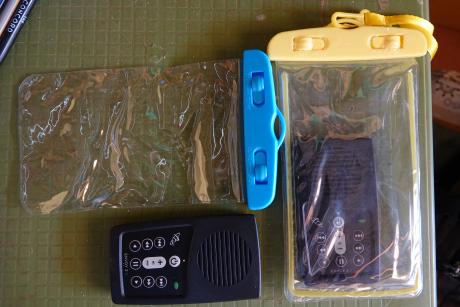 Solar powered audio Bibles. - Photo by: Jacqueline Mwende
The Samburu are dependent on their animals for survival. Their diet consists of milk and sometimes blood from their cows that is collected by making a tiny nip in the cow's jugular and draining the blood in a cup. Meat from cattle is eaten mainly on ceremonial occasions. Through education, they are adding more vegetables, fruits, and beans, to their ugali and rice meals.
It is a dry, somewhat barren land, and the Samburu relocate to ensure their cattle can feed.
Eddy and Amanda left their home in the USA to follow God's calling and have lived among the Samburu people, off and on since 2003, serving the Samburu in Sesia full-time since 2017.
They flew with MAF from the Kenyan capital to the airstrip at Sesia and they say the flights make a big difference to their work and the impact they are able to have.
"The lack of paved roads makes the trip to Nairobi difficult for our bodies. We are grateful for the partnership with MAF Kenya because we would not be in Sesia physically were it not for their flights," said Amanda. "MAF also supports us frequently with transporting cargo from Nairobi to Sesia and vice versa which has made it so easy for us."
Image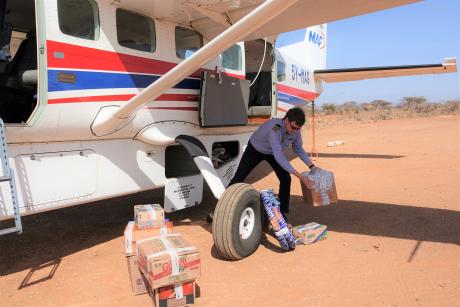 MAF Pilot Christiaan offloading cargo at Sesia airstrip. - Photo by: Jacqueline Mwende
Image
MAF Denmark CEO Peter gives a hand to Pastor Francis as they load goods to the car. - Photo by: Jacqueline Mwende
Amanda is a certified medical missionary, running a clinic on their porch four days a week from morning until noon.
"When we first got here in Samburu, we went through some heart-breaking experiences that showed us how fast medical care was needed by the Samburu people. This prompted me to receive medical training to enable me to run a clinic and bring medical care closer to them," she said. 
Some of the common diseases that Amanda treats include upper respiratory infections caused by colds and smoke fumes because of lack of ventilation in the huts, chronic lung infections from drinking contaminated water, stomach infections, eye infections from the dust in the air, ear infections, pelvic and sexual infections, and malaria during the rainy season. 
Also on their flight were MAF Denmark CEO Peter Hedelund and MAF International's Organisational Development Manager Kristina Bay who were impressed with the group's work in the region.
"I feel very encouraged by visiting the remote places in Kenya to see the phenomenal work our partners are doing among the people," said Peter. 
"Sesia is one of the places where MAF Denmark supports projects, especially by giving subsidised flights for our aircraft to provide transport for our partners like missionaries and evangelists to access the remote locations with ease."
Image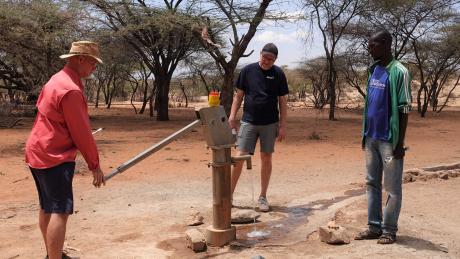 Eddy on the left demonstrating how to draw water from the well to MAF Denmark CEO Peter (middle) and Francis. - Photo by: Jacqueline Mwende
Story and Photos by: Jacqueline Mwende