Image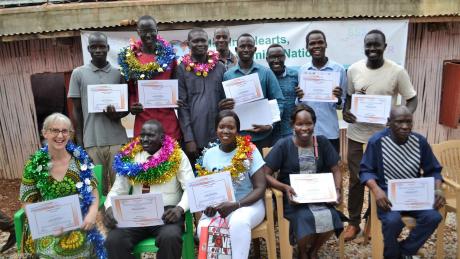 Jenny Davies
On Sunday 26 March, MAF celebrated the graduation in Juba of 13 new facilitators for the Healing Hearts and Transforming Nations workshop. The ceremony marked the end of a five-week training bringing together participants from several denominations and MAF partners. 
The training, which focused on increasing the number of South Sudanese facilitators, was led by MAF's Thomas Titus and Kristi Rice from the South Sudan Presbyterian Evangelical Church.  The students spent two days each week learning to present the teaching, dramas, intercessory prayer and ministry activities before putting their learning into practise by running a workshop themselves. It is hoped that the additional facilitators will enable many more people to participate in future trauma healing and reconciliation workshops.
MAF has been delivering The Healing Hearts, Transforming Nations workshops since 2014 when former staff member Corina de Waal brought MAF colleagues together for the very first workshop to heal divisions within the team. Many of these original participants, including Dispatch Team Leader Thomas Titus, have gone on to lead or assist in the running of workshops as the team has sought to share the training with churches and youth associations. After a hiatus during Covid, workshops resumed in 2021, reaching around 300 participants in six locations in 2022.   
The Bible based workshop was developed in Rwanda in the aftermath of the 1994 genocide which claimed the lives of more than a million Tutsis in one of the worst acts of ethnic violence ever seen. South Sudan carries similar scars having emerged from six decades of civil war. The recent conflict is thought to have claimed more than 400,000 lives and displaced millions within South Sudan and into nearby countries.  
The workshop teaching begins with God's original purpose for creation, the entering of sin into the world with the fall, and the model of repentance, forgiveness and reconciliation brought about by Jesus's ministry and death. Powerful dramas illustrate difficult and sensitive topics which are discussed in group sessions and activities designed to help people respond.
Image
Jenny Davies
Amongst the new graduates was Raphael Joel, a Tenet speaking evangelist with a heart to share the gospel in remote communities, like Arilo, served by MAF.  Raphael explains why he thinks the training is needed here in South Sudan:
'I thank God for the workshop, which is the best way of bringing communities together to live together peacefully. The training has nothing to do with politics, it is just about God working in the hearts of people and touching them as individuals. Where there is a problem between the communities, this training will be good for them.'
Raphael admits that he found some aspects of the teaching challenging. ' Even for me, when I went through the training it was not easy for me to see the whole community as one tribe. The training teaches that as Christians, we are supposed to be united in diversity. The training changed the way I think.
The practicum workshop showed Raphael how sensitive issues can be addressed through straightforward Bible based teaching, yielding great results: 'When I was teaching, I could tell that people are so ready to believe and accept people from other tribes. It is difficult for people to forgive. But when they go through training, they are able to open their heart and to forgive one another. I am so very happy and excited to see the way the teaching is touching people. My prayer is that God will provide this to our community.  I think we will see some impact. God can do something to this community and every community in South Sudan.'
MAF's Tracey Feil who took time from her day job as a teacher at Juba Christian Academy to undertake the training. 
'The weekends in March saw me undertake training to become a facilitator of the 'Healing Hearts, Transforming Nations' workshop. I've really enjoyed working alongside my South Sudanese colleagues as we develop our lesson plans, practise roleplays and eat good local food together. The final practical assignment involved facilitating a workshop ourselves. It was amazing to see the impact of the workshop and such a privilege to use our new skills.
'I loved working alongside the team and joyfully 'graduating' together on Sunday. I've learnt so much from my classmates and coaches. Thanks to Thomas Titus and Kristi Rice and colleagues for training us so well! This is powerful work that can bring healing to individuals, families and the nation itself! We all look forward to putting our new skills to use.'
It is the second such training MAF has enabled this year.  The first training, held in Yambio in January, graduated 12 new facilitators, bringing the total so far this year to 25. For Partnership Development Manager, Jaap de With the training of more and facilitators is part of a strategy to scale up the peace and reconciliation outreaches so more people can be reached.  
'MAF exists to multiply the impact of the ministries and partners we fly by enabling them to move safely around.  The whole MAF team are excited to see this much needed ministry growing through the training of new peace and reconciliation facilitators who can share this teaching within their communities. This way, we hope to more effectively support the church in South Sudan to reach people using the resources they have to hand. If each new facilitator leads just one workshop this year that is 25 workshops reaching an average of 50 people with each workshop. Thank you to our partners and supporters that will help make this impact possible this year and into the future.'