Image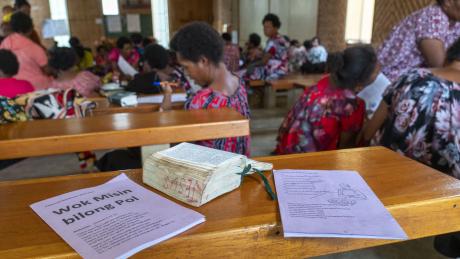 Mandy Glass
Because of MAF flying three dedicated charters, 27 women involved with church ministry within the Evangelical Brotherhood Church (EBC) could participate in a training course.
"It was a great course. It taught us a lot and challenged us to go back and do His (God's) work and search for the lost souls of men, women and children. The sessions about the Apostle Paul taught us many things. No matter if people are against us, harm us or even want to kill us. The Apostle Paul faced many challenges as he did his work. This challenged me to approach my ministry in a similar way."
This was the view from Nancy, who with her pastor husband, Terry Bernhard, looks after the EBC congregations in the Vanimo-Green area.
Image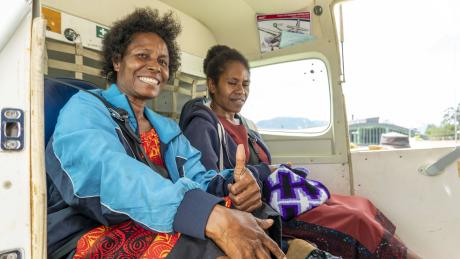 Mandy Glass
Nancy Bernhard gives a thumbs up as she travels back to Wewak with MAF after the course
Nancy Berhard was one of many female church leaders in Papua New Guinea who travelled for the valuable training session, thanks to MAF flights that brought them together. "Thank God with me for the course of about 200 pastors' wives held in Kurgark. It was a blessing to everyone. The 27 women from the Sepik region really appreciated taking part in a pastors' course in the highlands," said Ruedi Meier, missionary with the Swiss Evangelical Brotherhood Mission in Papua New Guinea (SEBM PNG) for almost 30 years.
"My mission work is to do Sunday School, women's ministry, and to help with RI and youth work," explains Ellen, a pastor's wife from a remote area of the Munduku area, close to the Enga border. "During the course we learnt a lot about mission work. Paul's life story and how he approached his work really helped me to gain new strength and encouraged me to continue my mission work, where I have been placed."
Image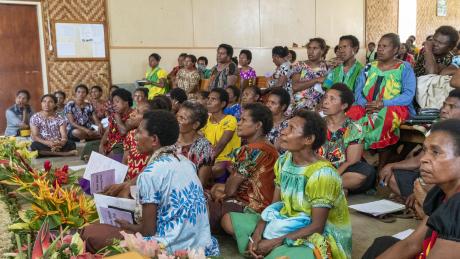 Mandy Glass
Doris, also a pastor's wife from the Sepik region, serving in the Munduku-Kamboa area, said the course would strengthen them in their work.
"Within our ministry we are facing pain and worry, all sorts of thoughts come up, and we are lacking resources, but we still experience how God sustains us. My husband and I are often discouraged and wonder how we can do our work. The story of Paul and how he overcame various challenges was an encouragement I with my family will follow," she said.
Image
Mandy Glass
This course at Kugark was one of four held at different places at the beginning of 2023 throughout the highlands so women who are involved in ministry work within the Evangelical Brotherhood Church could be equipped, strengthened and encouraged to serve even better. Women from six different circuits within the EBC church participated in the course at Kugark, coming from Mondomil, Banz, Kugark, Hagen, Jimi, Tari, Mendi and – because of MAF – from the Sepik.
"When the leadership of our circuit appointed us to participate in the course, my heart jumped!" shared Doris. "But I also was puzzled about the flight as it was a first for me. My first time ever to get on a plane. But it was God's plan that we all could come to this course. Just think about that, this was a first for us. To travel by canoe or car we are familiar with, no big deal, but to fly, how is this going to be?..."
Image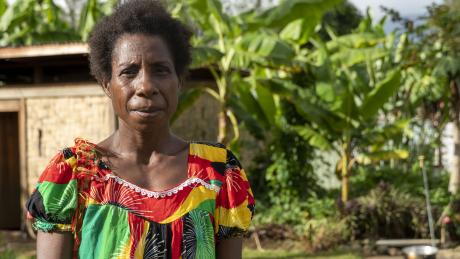 Mandy Glass
MAF dedicated three aircraft loads for flying the 27 women from Wewak to Mt Hagen in one day.
Linda Kasi, who is the wife of the Deputy Senior Pastor for the Sepik circuit, was intrigued how it all would work out for the many Sepik women to fly to the highlands.
She said: "If God wasn't in it, we would not have been able to come. God has a purpose for us, his work isn't done yet, therefore we had to come and meet, to get equipped by his word and teaching, to get encouraged so we go back to doing his work in the Sepik circuit."
Image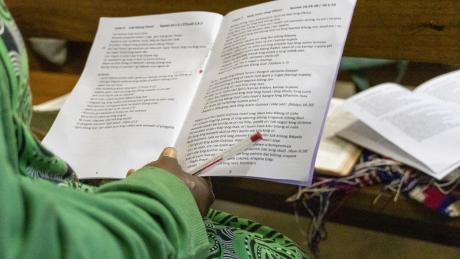 Mandy Glass
Seeing people transformed by the love of Christ is at the heart of MAF's mission.
Judith Meier, who supports the women's ministry within the EBC church, was really pleased with the support received by MAF.
She said: "MAF really was behind this course and opened the road for these Sepik women to come. As MAF dedicated three aircraft, almost 30 pastors' wives from the Sepik could come."
Image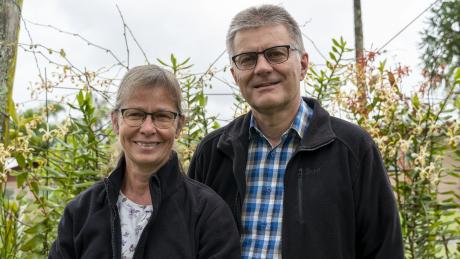 Mandy Glass
Missionaries Judith and Ruedi Meier serving with the Swiss Evangelical Brotherhood Mission in Papua New Guinea (SEBM PNG)
"Some of them are fairly young and new in their roles, others are already senior staff," continued Judith. "I was really pleased to see such a good mix of women. We all learnt a lot from Paul and this was a perfect fit for these women. And they won't keep the teaching for themselves.
"We made a little booklet which they will take with them and use to teach others. Many of them will travel far into the Sepik area, carrying and delivering the teaching they received to their congregations."
Image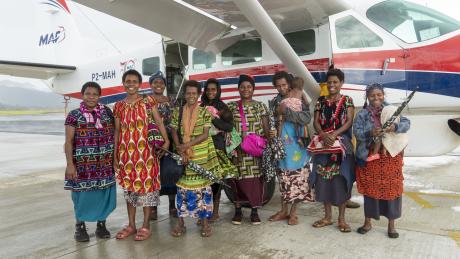 Mandy Glass
One of three groups of Sepik women who flew with MAF. The photo was taken prior their departure from Mt Hagen to Wewak.