Image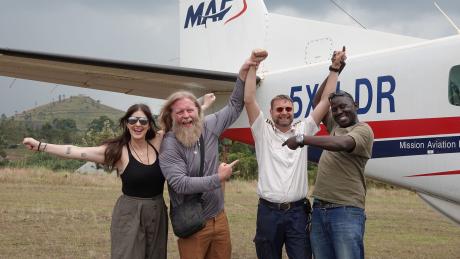 Photo credit: Damalie Hirwa
Former mixed martial arts champion Justin Wren knows every fighter needs a great team behind them, and he says Mission Aviation Fellowship has been a strong partner in his work with the forgotten people of the Congo forests.
The American tough guy, who fought in the UFC and Bellator MMA championships, quit his high-profile career in the sport to work with Mbuti pygmies who inhabit an area around the Uganda-Democratic Republic of Congo border.
But on his third trip to the forests, Justin nearly lost his life to his most dangerous opponent – a mosquito - and he contracted malaria, a disease that claims thousands of lives across Africa every year.
"I was airlifted from Congo to Entebbe airport in Uganda by MAF. They had missed the malaria four times due to expired test kits. I lost 33 pounds in 5 days, I had black water fever, and I couldn't pass urine for five days. The doctors at a healthy facility in Uganda said I would have passed in a few hours," he said.
This rescue did not only save Justin, it safeguarded the future of his mission to give pygmies fresh water, land rights, healthcare and safety.
Justin discovered his purpose through a vision that led him to visit the Congo forests, where he met the Mbuti pygmies.
While living in the forests alone is tough enough, the Mbuti pygmies have faced the worst circumstances of dehumanisation, through rape, denial of medical treatment because of their tribe especially by small medical clinics in the forests, exploitation with hard labour and small pay, and many more atrocities.
A lot of pygmy lives have been lost to waterborne disease.
But for the past 10 years Justin's vision has been shaping up. With a 20-year plan, the community whose lives are being turned around because of the Fight for the Forgotten organisation is growing tremendously.
"That's what our mission is, empowering them. So we get them all the tools, equip them with knowledge and empower them to bring change to their community," he said.
Image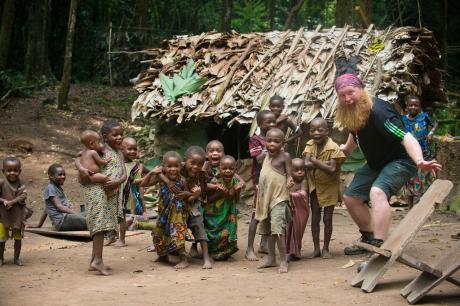 Photo Credit: Fight for the Forgotten
Justin Wren with the Mbuti pygmies in the Congo forests
And with the acquisition of 3,000 acres of land, even more pygmies are going to be reached. His Fight for the Forgotten project spread from Congo to the pygmies in Uganda, located in Bundibugyo district. The organisation has already acquired five acres of land to put up a level three hospital for community members.
To protect their heritage, Justin and his team are helping the indigenous people of the forests to also plant ten trees whenever they cut down one.
And on March 13, 2023, Justin made his latest visit to an area he loves so deeply, travelling with Amy Edwards, who was visiting the pygmies for the very first time.
Aboard MAF's 5X-LDR, pilot Rembrand Rodenburg safely carried Justin and Amy to Fort Portal airstrip, from where a team waited to drive them into the forests.