Image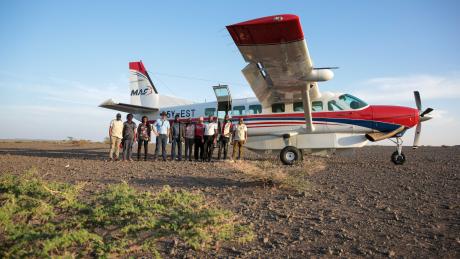 From left: Dr Jeremiah Mangale, Janet Maranga, Brenda Chrotich, MAF Kenya Pilot Daniel, Amon Tole (MOHI), Grace Ochieng, Dr Federico Sibona, Rev Victor Mose, Convas Bundi, Henry Kamau and Acadius Akungwi from AIC CURE International at Kargi Airstrip
When a medical team flew with MAF to isolated Kenyan communities, a surgeon was not expecting to operate during the mobile clinic
MAF transports surgeons and nurses to offer medical assistance to children in Kenya living with correctable conditions in isolated communities, where access to medical care is limited. On board, an evangelist accompanies them to share the love and gospel of Christ.
In late November, MAF Kenya Pilot Daniel Loewen-Rudgers flew a team of 10 to the isolated communities of Bura, Kargi and Lodwar to offer physical assessment, post-surgery care and recommend different treatments. A total of 103 benefitted from the mobile clinic and they all share the word of God with Rev Victor Mose, the Chaplain at CURE within the three centres.
At a mobile clinic in Kargi, Dr Federico Sibona from CURE performed an unusual surgery on a 14-year-old called Peter who has six digits on both hands and feet, a condition known as postaxial polydactyly.
Peter's problem started four months ago when he was playing football and fell, and a classmate hit him on the extra digit on his left foot causing him so much pain. Since then, the extra digit has been dangling from the rest of his foot causing him excruciating pain while walking.
Peter was accompanied by his family to different local health facilities but their search for treatment was in vain after facing a refusal from the medical officers citing, they do not offer such surgical services. Living four hours away from Kargi where the mobile clinic was running, Peter and his family managed to walk the long, tedious journey on the impassable roads to come for an examination. It was after the assessment that Dr Federico decided to perform the surgery in the bush.
"There was no possibility for Peter and his family to travel to AIC CURE Kijabe Hospital from Kargi for the surgery, so we considered the risks and benefits in the feasibility of the surgery here and in the end we decided to go for it," said Dr Sibona, a surgeon at CURE Kijabe Hospital.
The surgeon clarified that CURE does not normally perform surgeries in any other environment other than the surgical theatre, but this case was unusual.
"We never perform surgeries of this kind anywhere other than the surgical theatres but for the locals in these remote areas, travelling to Kijabe is impossible and there are no such hospitals around that can perform this surgery," he added. The surgeon performed the surgery on Peter and the extra digit causing him the pain was successfully removed.
"This is a special situation in this remote area where you can't get even the easiest facilities. Thanks to MOHI for the mobilization done that Peter and his family managed to come to the clinic. The surgery marks a new beginning for Peter who can now walk well without experiencing any pain," said Dr Federico.
"We could not have managed to come this far without the help of MAF flights in accessing this remote area and beat the long distance of travel where roads are not tarmac. Thank you to MAF and CURE for making it possible for us to reach these children," he added.
Written by: Jacqueline Mwende
Photos by: CURE Kenya