Image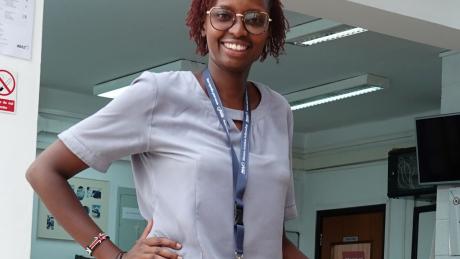 Brenda Mwaura - Kenya - Photo by: Jacqueline Mwende
Brenda Mwaura is the Programmes Facilities and Logistics Manager at the heart of MAF Kenya's base, keeping the team connected with efficiency and a smile in all she does.
The busy leader of support staff keeps the working environment buzzing at MAF's offices in Nairobi, but she's best known for her joyful approach to life.
"I am blessed to have a great team behind me with whom we share the same value systems, and thought processes, and who want it to work," she said.
"I think it's important in every place of work for people to be approachable and especially for me as a leader and administrator who is service oriented. I get to talk and interact with many people from outside, and inside the organisation which makes it easier for them to express themselves.
"If you are unapproachable and unhappy, people will find it difficult to seek assistance or report any incidences; whether work-related or personal."
It's also Brenda's talent as a chef that makes her popular with friends and colleagues.
Her favourite Kenyan meal that she likes cooking is pilau – which comes from the coast. (It is a mixture of rice, spices, and meat either beef or chicken). Brenda's favourite Indian dish is butter chicken. Her friends make special requests for these meals prior to visiting.
"I am a lover of life and from time to time, I meet with friends for a catch-up and spend time with family. I also love cooking, so I am always open to trying out new recipes from different countries like lasagne, and tiramisu among others and sharing them with friends. It feels good when I receive positive feedback about my cooking from them," she said.
Behind the smiles is the sharp mind of a talented professional adept in managing logistics, projects, budgeting, building, and fostering partnerships and leadership. Brenda has a master's degree in Project Planning and Management and a bachelor's degree in Psychology and Sociology, all from the University of Nairobi.
She oversees the international staff's work permits, office purchases and supplies, and logistics for aircraft spare parts to and from Uganda and ensures that all organisation-registered vehicles are in good condition.
Image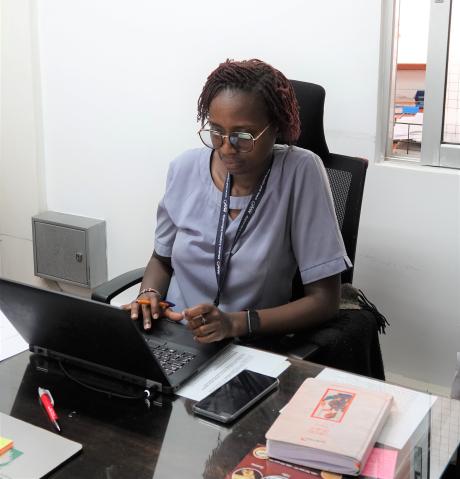 Brenda Mwaura - The Programmes Facilities and Logistics Manager – Photo by: Jacqueline Mwende
Before joining MAF, Brenda worked as an administration officer for a manufacturing company with a focus on workplace safety, security management, repairs, maintenance, hygiene, authority legislation and monitoring. 
But when she arrived at MAF for a job interview in 2018, she overheard a conversation from the programme's former boss that convinced her there was something special about the culture at Mission Aviation Fellowship.
"The one incident I will never forget was the time I came to MAF Kenya for an interview, I was so fresh and green and had no experience with the organisation. I remember Ryan Cuthel (who was the Country Director then) asking a lady colleague by the reception if she wanted to have tea, and she said yes, maybe two teaspoons of sugar, thank you very much. I was amazed by the interactions and service, and I knew I would like to come and work for MAF.  Once I was done with the interview, I asked, who was the man serving tea earlier and I was told he was the boss, that left me stunned," she said.
In most organisations, employee-employer relationships are strict. The relationship mostly revolves around the employee meeting the employer's work expectations. In MAF, the leaders are approachable to the employees which impacts positively the organisation.
The character in MAF shone brightly on Brenda, especially on servant leadership.
"MAF's impact touched my heart in a special way. Bringing help, hope and healing to people living in far-flung communities, those who are marginalised, those that cannot do it for themselves and those that are forgotten. The work is amazing!"
During her free time, Brenda tends to her furry friend Bradley and herself. She also spends quality time with friends and family.
"I have a cat; his name is Bradley and I enjoy spending time with him during my leisure time. I also love working out and one of my favourite classes is the steps and Kata Box exercise classes," said Brenda.
Nairobi-born and bred Brenda calls upon MAF supporters to visit MAF programmes to see what their support achieves – and to come and experience Kenya someday.
"I would urge the MAF supporters to visit our programme and see the impact as opposed to hearing because there's a huge difference between hearing and seeing the impact," Brenda said.
Written by: Jacqueline Mwende and Sean Atkins