Image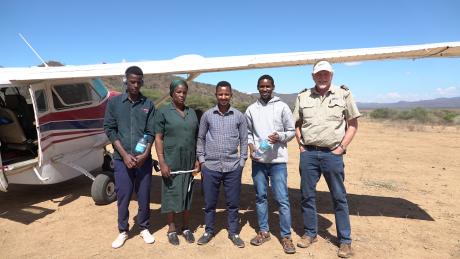 From left: Tumaini, Monica, Yohani, Pasqalu and MAF pilot Mark Liprini at Endanyawish airstrip after the mobile clinic - Photo by: Jacqueline Mwende
MAF flew nurses to deliver maternal healthcare services to mothers, pregnant women and their babies in communities where access is limited
Each month MAF Tanzania flies a team of nurses from Haydom Lutheran Hospital to remote villages in the region to provide maternal and child health care to pregnant women, mothers and their babies to end preventable deaths and improve their health and well-being.
Early in December, MAF Tanzania pilots Mark Liprini and Peter Griffin flew teams of Haydom Hospital nurses for a three-day medical safari to Gorimba, Matala, Endanyawish, Buger and Dumanga villages. More than 1,500 pregnant women, mothers and children benefitted from the services offered, among them, physical assessments, pre-and post-natal care, immunisations, vitamin A supplementation, antimalarial drugs, folic acid supplementation and nutrition counselling.  
Many children continue to die in Tanzania from preventable diseases such as TB, pneumonia, polio, measles, and diarrhoea. In efforts to ensure the numbers reduce, the children visiting the clinics are vaccinated against these killer diseases.
"The MAF aircraft we use to transport nurses to different villages send an invitation to the people in the region by their sound in the air, causing an excitement that makes people come in large numbers to the clinics," said Petro Israel, a registered nurse at Haydom Hospital. "The clinics we run in the five villages are going on well and we can serve many people." 
Image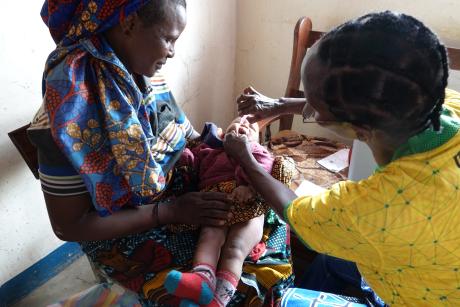 A child is vaccinated during the Haydom mobile clinic - Photo by: Jacqueline Mwende
Challenge during the clinic
"The biggest challenge we face during the mobile clinics in the villages is we are not able to serve the huge turnout of mothers in a day," he added. Some mobile clinics can run for two days but others cannot. The mothers coming to the clinics walk long distances between four to six hours in the middle of the wild, risking their lives to come and access the health services.
"I started my journey at 7 o'clock in the morning and I got here at noon, please see my child," said Eslar, a mother who walked miles in the wild to bring her five month old son for immunisation.
"So far, the clinics we run are good because of the many mothers that we get to reach and help. The villages we visit have very bad roads that are almost impassable and have no health centres. Travelling by road takes more than three hours but with a MAF flight we use a maximum of twenty minutes to reach the clinics," said Mawsweta, the nurse assistant at Haydom Hospital.
Critical Partnership
The partnership between MAF Tanzania and Haydom Hospital is long-running and together they have been able to give medical attention to the most isolated communities in Tanzania through monthly medical safaris. The north is vast and wide with few health centres and many women have faced difficulties during pregnancy and childbirth for a lack of professional care. Many children have died too.
"I am grateful to MAF Tanzania and their pilots; one time during a mobile clinic, a child started swelling abnormally in the whole body and the pilot quickly liaised with the MAF office for a possible medical evacuation and he was airlifted quickly to Haydom airstrip where an ambulance was in waiting and he was rushed to the hospital where he received treatment," said Mawsweta.
Image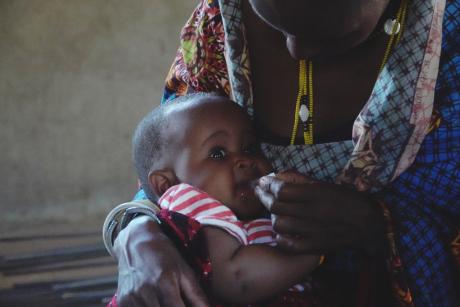 A mother giving her child a vaccine during the clinic in the presence of a nurse - Photo by: Jacqueline Mwende
Story and photos by: Jacqueline Mwende