Image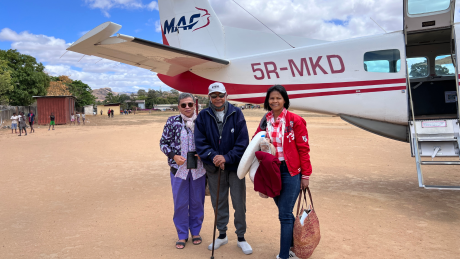 Jean Celien, wife and niece in front of MAF plane in Mandritrsara - Photo: Irina Randriamandrato
After a while of trying to get a proper treatment in Antananarivo for his advanced case of haemorrhoids, Jean and his wife heard of the HVM hospital. Last month, MAF flew them to Mandritsara so he could be treated there.
The HVM hospital in Mandritsara started 25 years ago as a small clinic room. It has now grown to be a well renowned hospital which consists of an eye department, a laboratory, an x-ray department and a maternity ward. Even the doctors are well known there.
Whilst waiting to board the flight, Misaharivololoniaina, Jean's wife, told us "Many people have spoken to us about the hospital in Mandritsara." She explained that Jean had already been hospitalised in Antananarivo for many months and undergone operations in the past, but the operations were unsuccessful. "We also heard a lot about the doctors there and about how skillful they are. We were told that they would surely be able to help my husband," she said.
They even already met with one of the doctors from Mandritsara, Doctor Ted, prior to their flight and said that he was very kind and reassuring, which was also one of the reasons they decided to go to Mandritsara. He gave them hope that something could be done for Jean.
Misaharivololoniaina further told us that when they heard that the HVM hospital was in Mandritsara, they wondered how they would get there as they were already aware that the road is bad. They knew it would take no less than 26 hours to get there by taxi-brousse (bush taxi), which was not a viable option for Jean. They were more than delighted to hear that there was another way to get there. "We were so grateful when we heard that you (MAF) fly there. You are helping us so much. Thank you!" exclaimed Misaharivololoniaina. 
Image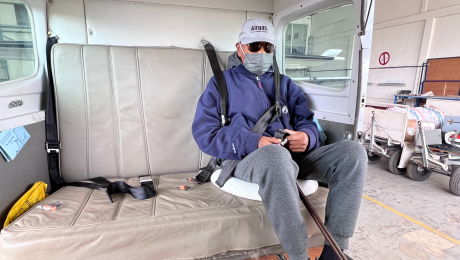 Jean Celien in MAF plane in hangar in Antananarivo - Photo: Irina Randriamandrato