When disaster strikes
When disaster strikes, speed is essential. MAF's Disaster Response Team is ready to deploy whenever and wherever they're needed to assist a swift and coordinated response by governments, NGOs and churches. Whether it's a natural disaster, disease outbreak, conflict or famine, a rapid and efficient response saves lives.
Expertise in Disaster Response
For over 48 years, MAF has responded to some of the world's most devastating disasters, reaching isolated communities in their time of greatest need. Below you will find examples of how MAF has contributed to responses over a number of decades.
Earthquakes & Tsunamis
Image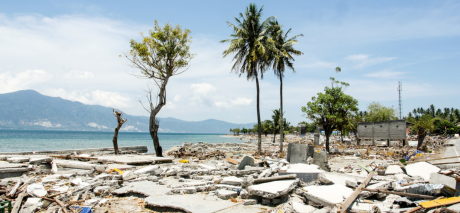 Photo: Victor Manopo, OBI
Image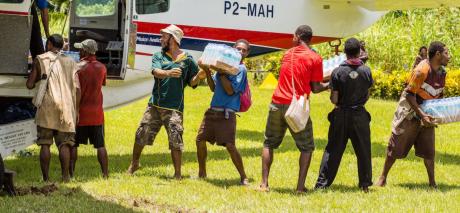 Photo: Andrea Rominger
On 26 February 2018, an earthquake measuring 7.5 on the Richter scale struck Papua New Guinea, triggering landslides, destroying homes, contaminating water sources and affecting crops and food supplies. With MAF already in country, our national team, our MAF Technologies team and our Disaster Response team got to work immediately. We flew survey flights to assess the damage and passed this information on to the government, Australian military and other NGOs responding. This information proved to be vital, with the PNG Defence Force Lead saying "MAF will pretty much determine which direction resources go, for they currently have the most information."
In the days, weeks and months that followed, MAF continued to serve the people that had been impacted. We performed medical evacuations, delivered food, water and shelter supplies to stricken communities, and repatriated people back home once treated. By the end of the response, MAF had carried out 248 flights, transporting over 200,000kg of cargo and over 400 people on disaster response flights. We continue to serve the affected communities.
Image
Photo: Michael Duncalfe
Image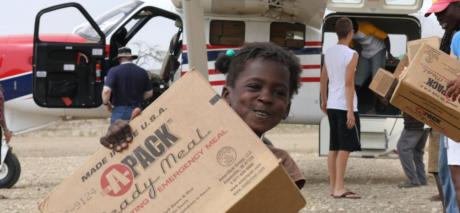 MAF Archive
On the 12 January 2010, the small Caribbean island of Haiti was shattered by an earthquake measuring 7.0 on the Richter scale. Recovering from tropical storms and hurricanes from the previous year, the effects were devastating. With an estimated 220,000 people dead, many more were injured. Homes and schools were destroyed and 1.5million people were left homeless.
Within 48 hours, a MAF team had assembled in Port-au-Prince. A fully coordinated response effort was underway, partnering with over 60 relief agencies. We transported medical personnel, aid workers and critical relief supplies, and flew the injured to safety. Former US President, Bill Clinton, commended MAF saying, "By organising hundreds of relief flights and delivering thousands of pounds of supplies, you've had a critical impact on Haiti's recovery."
Image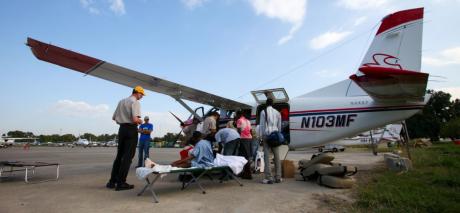 Photo: Anthony Cece
Image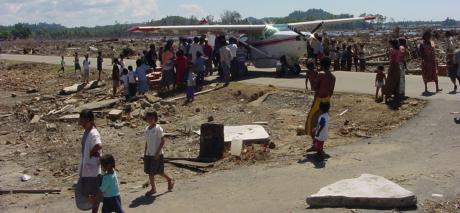 MAF Archive
The Boxing Day Tsunami, which impacted around 12 countries, was the result of an earthquake off the coast of Sumatra's Aceh province in Indonesia. It killed at least 225,000 people and displaced 570,000 others. Bridges and roads were destroyed or covered with debris, making relief efforts overground almost impossible. MAF had been working in Indonesia since the 1950s and was one of the first responders, carrying out survey flights and delivering urgent food and medical supplies. Several relief organisations asked MAF to lead the coordination of the multi-agency response. 
Immediately, two MAF aircraft were deployed, making daily flights delivering aid to cut off and remote areas. They were soon joined by MAF's amphibious de Havilland Turbo Beaver plane, loaned from Bangladesh, which could land in river inlets and on the sea, reaching communities totally cut off from help. 
With communications infrastructure destroyed, MAF also established communications centres so that relief workers could communicate with their main offices. Following the immediate aftermath, MAF continued to contribute, carrying building supplies and water pump equipment to those who needed it.
MAF relief flights and medical evacuations were vital in the wake of a severe earthquake in Papua, Indonesia, on the 26th June 1976. Fifteen villages were destroyed, one third of the population missing, and 80 percent of crops ruined. For the next six months, MAF would fly five tons of food each day to the stricken area.
Image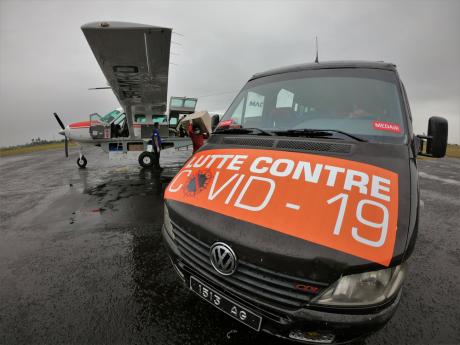 MAF flew MedAir to Toamasina, Madagascar, to oversee the work to fight CoVid-19. Medical equipment included ventilators for patients. Photo: Ryan Unger
During 2020 and 2021, MAF assisted medical teams, governments and NGOs in their pandemic response activities. For every MAF flight we implemented infection control procedures to prepare each aircraft, and our engineers designed and organised manufacture of crew screens to separate the pilot and passengers on flights to reduce contact.
Our flights supported Covid testing and education for isolated communities, and in some programmes we flew patients (with appropriate safety measures in place) needing hospital care. We prepared for and supported the distribution of some vaccines to isolated communities, though national supplies were very small for the countries where we operate.
In Liberia
One of the first flights we did was in Liberia in March 2020, taking a medical team to Zwedru to test a patient with suspected Covid-19. Without the one-hour flight they would have had a 40 hour round trip to reach the patient and carry out the test.
In Timor-Leste
As a result of the pandemic, the region of Oecusse, in Timor-Leste, was cut off from the rest of the country as the Indonesian border closed and the sea ferries stopped running. MAF, in collaboration with Oxfam, was able to ensure 14,350 households in Oecusse received vital sanitation supplies and education about Covid-19.
In Papua New Guinea
In Papua New Guinea high frequency (HF) radio was used by our MAF Technologies team to educate, reassure, and provide clarity to numerous communities that have no access to the internet or printed news, but who were hearing rumours of the devastation caused by Covid-19 globally. This included hosting a live two-way broadcast via their HF radio service, enabling Dr James Gahare to answer questions from health workers within the remote communities.
In Tanzania
In Tanzania, as part of our monthly medical safari schedule, we transported Covid vaccines along with the usual vaccines offered during clinics. However, the medical teams encountered hesitancy concerning the new vaccines, having heard rumours about possible side-effects.
Image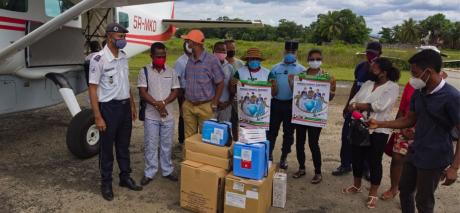 Transportation of Covid-19 vaccines and educational materials about hand-washing flown to three isolated communities Madagascar. Photo: Ian Purdey
Image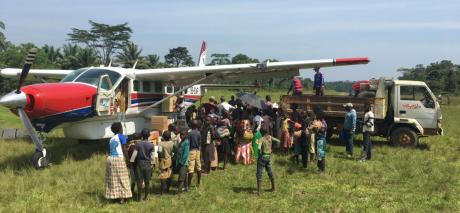 MAF delivers 1,200kg ebola/medical supplies in Mambasa, DRC. Photo: David Petersen
The Democratic Republic of Congo (DRC) is a high-risk country for the Ebola Virus Disease (EVD) and has experienced outbreaks several times throughout its recent history. MAF has been involved in each response in different capacities.
In response to the outbreak in 2018-19, in the North Kivu region near the city of Beni, MAF provided logistics support and flight operations from our bases in Nyankunde and Bunia, as well as from Kinshasa.
MAF worked with the World Food Program Logistics Cluster, DRC Ministry of Health, World Health Organization, the UN and other humanitarian agencies and NGOs in the coordination efforts and fight against Ebola.
Across a seventeen-month period, MAF flew response teams and cargo, including: 1,259kg of Ebola vaccines; medical and sanitation supplies; motorcycle parts for ground response teams; three Vsat dishes for logistics purposes; tents and oxygen bottles; and various other items to ensure a full medical response.
Image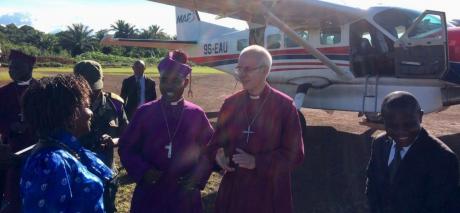 The Archbishop of Canterbury, Justin Welby, flew with MAF to visit Ebola hot zones in the Democratic Republic of the Congo. Photo: Nick Frey
Image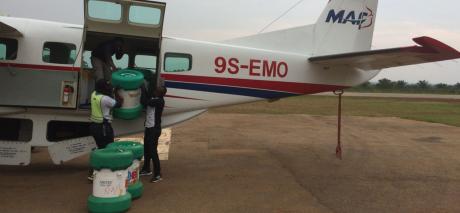 Delivery of Ebola vaccines to Beni, the epicenter of the 2018-2019 outbreak, and collection of blood samples for the research center in Kinshasa. Photo: Karen Carlson
Image
2019 Delivery of measles vaccinations and associated medical supplies to the remote village of Mananara, Madagascar. Photo: Charlotte Pedersen
In Madagascar
MAF flew 375,000 measles vaccinations to isolated Malagasy villages as part of a national response to a severe measles outbreak.
An estimated 58% of the population were vaccinated when the outbreak started in September 2018 (WHO and UNICEF). In combination with poverty and malnutrition, hundreds of children died during the outbreak.
The government, in collaboration with NGOs, initiated a campaign to vaccinate seven million children against measles; every child between nine months and nine years of age.
The impact of the vaccination programme was quickly seen within urban areas, but reaching rural districts, which make up the majority of Madagascar, was a big challenge: poor road conditions result in slow, time-consuming overland travel. In the rainy season many villages are inaccessible. Maintaining the cold chain for transportation of the vaccines was vital, so transfer by air was the only realistic option.
MAF transported 8281kgs of supplies to help fight the outbreak: vaccines in dry ice and accessories including syringes, vaccination cards, safety disposal boxes (for used syringes), banners and cotton to 12 remote locations for administration.
In South Sudan
MAF provided similar support with cold chain delivery in South Sudan. In 2020 we flew more than a hundred flight legs for Medair to support implementation of an urgent campaign to stop an outbreak of measles there.
Image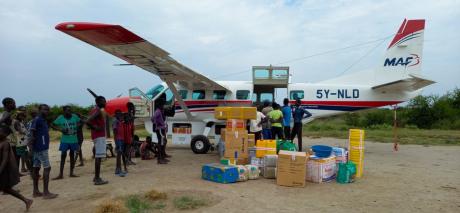 2020 MAF flew medical workers and vaccines to Gumuruk, in South Sudan's Jonglei State, in support of Medair's campaign to stop an outbreak of measles. Photo: Wim Hobo
Image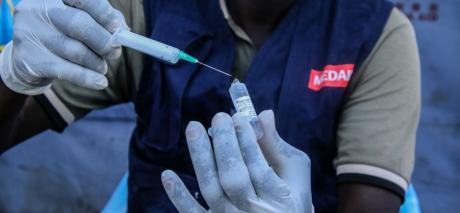 Preparing to administer a measles vaccination. Photo: Medair/Diana Gorter
Image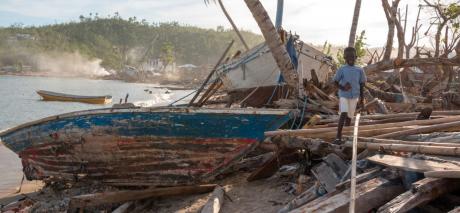 2016 Children playing amidst debris deposited by Hurricane Matthew in Dame Marie, Haiti. Photo: Mark Hewes
Image
Relief supplies delivered for communities in Kasese, Uganda, after flash floods displaced 25,000 people. Photo: Dave Forney
MAF assisted the community of Kasese, Uganda, after flash-flooding displaced 25,000 people. Restrictions due to the Covid-19 lockdowns complicated gaining permission to fly, but Chief Pilot Greg Vine was ready within 20 minutes of answering the call confirming approval for the emergency flights.  
MAF flew four planes fully loaded with relief supplies for the people in Kasese who had seen their homes washed away by the floods.
Image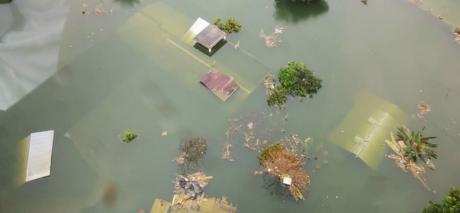 2020 Flooding in Guatemala following hurricane Iota.
MAF's Disaster Response team assisted Missionary Flights International with relief operations in 2019 following the devastation left by Hurricane Dorian in the Bahamas. The team coordinated the delivery and distribution of relief supplies through a number of key partners on the ground, including the Salvation Army and Rev. Fredrick McAlpine, the Hon. Member of parliament for the Pineridge Constituency, who is also a pastor of a local Baptist church in Freeport.
Rev. McAlpine set up a distribution centre at a local primary school in Freeport and a counselling centre for people who had been traumatised or lost loved ones. Relief efforts were also assisted by members of the armed forces from Trinidad and Tobago.
One of the worst hit areas in Freeport was the Regency neighbourhood, with a population of over 12,000 people. Every house in the entire neighbourhood was severely damaged; residents literally lost everything they did not carry away with them when they were taken to a shelter just before the hurricane hit.
MAF similarly assisted with disaster relief efforts in 2020, partnering with Samaritan's Purse, following the impact of Hurricane Iota. Our response included survey flights to assess the extent of the damage in Guatemala and Honduras.
Image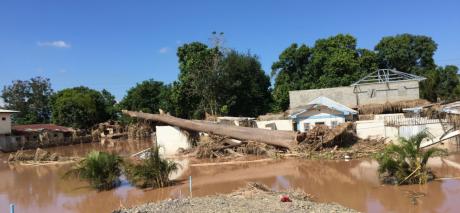 2020 Flood damage near river Ulua, Honduras, following hurricane Iota. Photo: Nick Frey
Image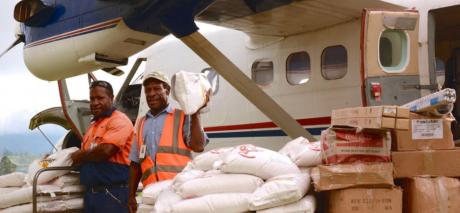 Loading relief supplies into the MAF aircraft for delivery to communities devastated by flooding in the Southern Highlands of Papua New Guinea.Photo: P Woodington
MAF aircraft transported six tonnes of aid supplies to starving villagers following flooding in the Southern Highlands of Papua New Guinea. The flood displaced 6,000 people, causing the government to declare the area a disaster zone.
The Purari River flooded due to ceaseless rains in June and July of 2014. The subsistence populations of Wabo, Wuraru, Purari, Poroi and Subu were left without food and shelter.
Due to persistent bad weather, the relief program continued for several weeks from our base in Goroka. Supplies flown in included rice and mosquito nets.
Sadly, two people from the neighbouring village of Herowana drowned. Our aircraft flew into Herowana with coffins for the burials, and food for grief stricken relatives.
Image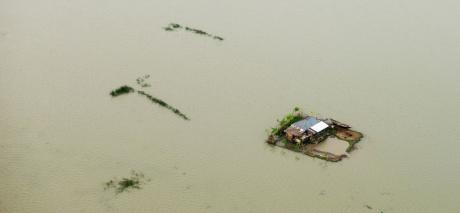 Aerial survey of flooded area of Bangladesh in 2014. Photo: LuAnne Cadd
In November 2007, a category 5 cyclone made landfall in Bangladesh causing large scale evacuations and devastation. Sidr formed in the Bay of Bengal with winds of 160mph, leaving millions in coastal areas homeless, destroying livestock, crops and fishing communities. 4,000 people lost their lives. In the days following the disaster, MAF flew into action, collaborating with other aid agencies, flying medical and disaster relief teams, doing medical evacuations, transporting food, water and medical supplies, and maintaining vital communications systems.
MAF has similarly responded following other cyclones that have hit Bangladesh, with its vulnerable geographical location, and high population density - first in disaster response and then in support of ongoing work to help communities recover and implement measures to prepare for future catastrophe.
Image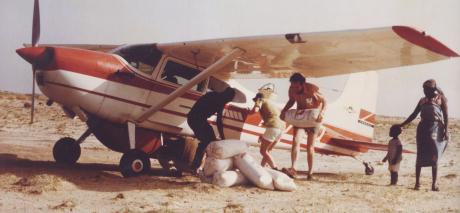 MAF Archive
In the early 1980s Chad was recovering from the effects of war. Poor rainfall made survival even harder and crops began to fail. In 1985, thousands of Chadians left their homes in search of food, making a perilous 1,000-mile journey into Darfur, Sudan. Hundreds of children were dying each day. In the south of Chad, MAF was flying regularly and discovered first-hand the devastating consequences of the lack of rain. Unless urgent action was taken, 30,000 people in the villages MAF served would starve. 
MAF supporters generously responded and a relief operation was set up working with local Chadians, churches and mission workers and the hospital at Bébalém, distributing grain to villages that needed it most. As the need increased, MAF gathered an emergency task force of additional staff and extra aircraft were loaned from other programmes. By the end of the operation, 2,460 tonnes of grain had been distributed, helping to save the lives of 55,000 people whilst vaccinating 1,600 children and averting a measles epidemic.
Image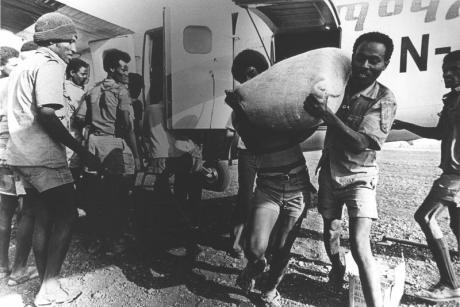 Unloading relief supplies in Ethiopia, 1980s
MAF began flight operations in Ethiopia in 1960. When a severe famine struck in the 1980s  MAF, in partnership with World Vision, was heavily involved in assisting. In addition to long exhausting days of flying desperately needed food supplies, were three days accompanied by BBC journalists. These crucial days brought global attention to the catastrophic situation unfolding in Ethiopia.
Read more about the partnership between World Vision and  MAF, where pilot Keith Ketchum shares about his initial resistance to flying journalists at the cost of leaving behind precious sacks of relief supplies.
According to the UN, an estimated one million people died as a result of the severe famine and resulting food shortages from 1983 to 1985.
Image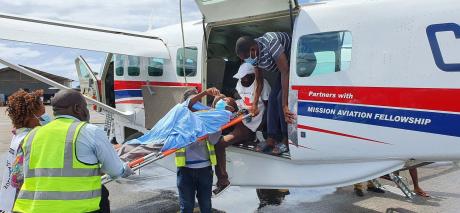 Ambassador Aviation (AA), in partnership with Mission Aviation Fellowship (MAF), is flying survivors to safety. Photo: Dave LePoidevin
As thousands of people in northern Mozambique fled deadly fighting between government forces and an armed group linked to ISIL (ISIS), Ambassador Aviation (AA), in partnership with MAF, evacuated children, families, the wounded, the elderly, and even one pregnant woman in distress.
From 31 March - 12 April, in cooperation with VAMOZ (Voluntários Anónimos de Moçambique), a humanitarian group, we conducted 27 evacuation flights for 219 passengers from Afungi to Pemba. Staff in Pemba noted several happy reunions as new arrivals connected with those who were previously evacuated. For the wounded, an ambulance awaited their arrival in Pemba.
Image
MAF Archive
When Rwandan President Juvénal Habyarimana's plane was shot down in April 1994, Hutu extremists immediately began a ruthless genocide against the minority Tutsi community. Refugees flooded over the Tanzanian border to Ngara where a rapidly growing refugee camp was established. MAF made some initial flights to the area for UN officials and medical relief workers, and was called upon to evacuate Rwandan missionaries. With the scale of need and transport being a major problem, the value of MAF's services became overwhelmingly clear. 
MAF pilot, John Clifford, located a section of tarmac road 5.5 miles south of Ngara which could be used as a landing strip. Within days MAF began to help a global disaster response effort that would last many months. MAF rapidly expanded its response to include aircraft from four bases across three countries. Many months of flying and hours of logistics by our ground staff ensued. The Rwandan genocide became known as the most horrific human massacre since the Holocaust.