Image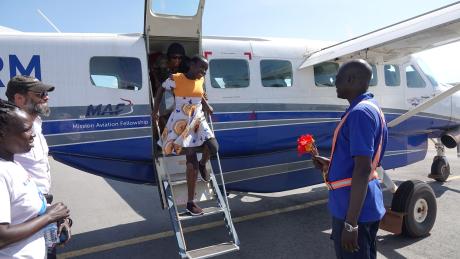 Damalie Hirwa
A Ugandan teenager, who lost both legs due to an infection caused by malaria, is now able to step into her future with confidence - dreaming of playgrounds, football and a return to school.
MAF picked up double amputee Scovia Drateru in January to fly her from Arua airstrip in Uganda's West Nile district to Jinja's St James Orthopaedic Centre, to be fitted for artificial limbs.
In April, after successfully regaining the ability to walk again, the 14-year-old stepped back on a MAF plane for the joyful journey back home.
Her mother, Janet Feku, explains how her daughter, the last-born of three children, lost her legs at the age of four. After she was attacked by malaria, she suffered an infection that was so severe that it ate into her body starting from her feet. Due to fears that the case could be fatal, doctors took a decision to amputate her legs.
Later the girl's nails turned black and began rotting. The situation got worse when her bones started falling from the joints as the disease advanced.
But the joy on Scovia's face was priceless when MAF plane 5X-FRM, piloted by Dave Forney, touched down at the airstrip in the northern Ugandan town of Arua and excited staff gathered to welcome her back.
After losing a term in class, Scovia will be back to school for the second term on the school calendar.
Back in her home village of Edioffe, Scovia dreams of running around playgrounds again in a few months and playing her favourite game, football!  
Reverend Gunapooshani Kanapathipillai met Scovia with her mother in Edioffe and sought ways to help her acquire artificial limbs. It is Reverend Pooshani who notified MAF about the need to fly Scovia from Arua to Jinja where she could have artificial limbs made for her.
In her ministry, Reverend Gunapooshani also carries out Bible study sessions for people in remote communities in Northern Uganda and West Nile regions. 
A journey by road would have lasted ten and a half hours from Arua, where Scovia and her mother were picked up, to Jinja, where she received treatment. It was reduced to only an hour by the MAF flight.
MAF pilot Andrew Parker did the initial medevac flight in January and said it was an honour to help Scovia and her mother get the care they needed.
A smiling Jane Feku said it was a bonus to have the opportunity to fly.
Image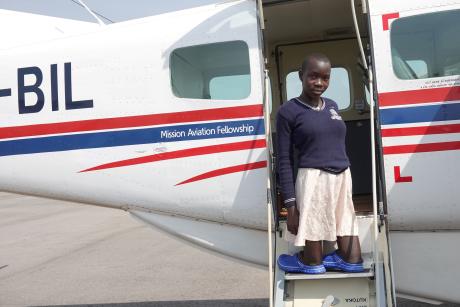 Damalie Hirwa
Before Scovia received prosthetic limbs